Discussion Starter
•
#1
•
I get down the marina and the restaurant is not serving breakfast because the cook did not come in. Her husband was rushed to the hospital at 2.00 am. Wish them well. Chum is in the area. The guys also did not show up for breakfast as planed before I left them last night. About 7:00 I head to the house boat. Only Steve is up and he just got up. He tells me he worked on the boat till midnight. They found and fixed the fuel leak. They still have to buy a battery from the marina. One on the boat is about 6 years old and only had 6 volts after charging all night. By the time all was ready it was about 9:00. I was told Chum was going with us today.

We get out of the marina and have to turn around for a box of pogies. This should have been an omen. It is now 9:30 as we left the marina for the second time. I head south and decide to run long where I know the fish are usually good. They are not the big ones you get on the lump at this time but we can get some tuna in the boat without hurting everybody. Can not waste any time because of the very late start. Once in the Gulf the direction we want to go is pounding us in the prowler. I make a small change and hit shelf rig we would go by that has also held tuna. This gave us a better ride and we picked up about 5 more mph. We trolled around and located them. Nothing on the troll so we jigged up a few.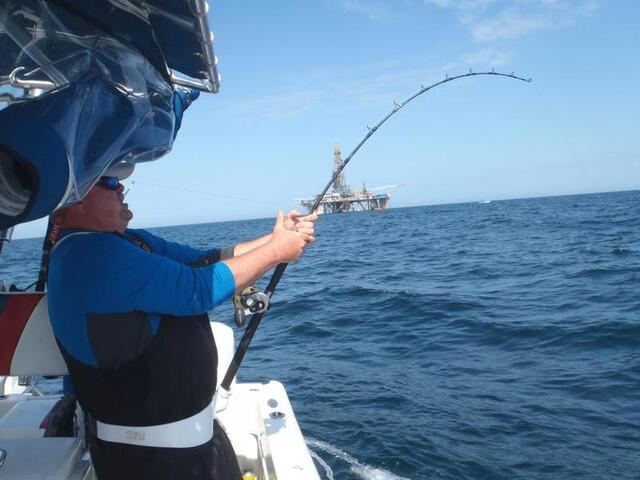 We had 3 blackfin in the box and it was already 1:00. The winds have laid down a bit so I go back to plan A. As we approach the targeted rig I ask Steve where his sabiki rod is. He points to his tuna spinner. He has sabiki rigs but no light sinkers. Chum again!!!
Lee of Blind Faith charters is leaving as I approach. It is already 2:30 and he is heading in. He turns around and gives me a sabiki rod with some 1 oz. sinkers. We are already running late and stretching things but we will not fish the next 2 days due to weather. Once we get the bait which did not take long we set up for the tuna. First one on is a good one around 70 class fish. After a good fight it comes into sight of the boat about 30 feet deep but got it's head turned and dove down again. This hurt the angler and he had to hand off the rod. Who grabbed it??? You guessed right, Chum! We got to the leader and the line broke. The tuna was gut hooked and the teeth rubbed through the leader. There was about an inch of chaffed leader. We also lost 2 on poppers and a very nice mahi on a popper. Time was running out and our luck was not there. They had a choice of running in for a late shot at some snapper or give it another half hour for a shot at a tuna. They wanted to stay for a tuna. Did I mention the tuna were thick? Did I mention I had Chum aboard? Our last ditch effort paid off and we quickly put 2 yellowfin in the boat.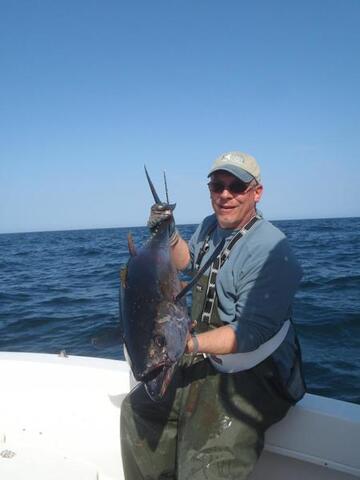 We also lost 2 more yellowfin on poppers. It was now 4:30 and we had a long run in. I was trying to beat dark. I knew I would have to deal with a bit of fog also. It was not going to be a good ride home.
As I got 15 miles off shore visibility was going south. Once in the pass things were a challenge. I had a good track and the boat traffic was not in play in south pass. A lot of places was clear enough to run full throttle. Thick at the head of passes and I was on the radio and only going 8 - 9 mph. Again no boats just one at anchor across from Pilot town. The aided me well and made my passage through there a bit easier. I was able to run the east bank well but the river itself was thick 50 - 100 feet off the bank. 1 1/2 miles south of the jump we hit a wall of fog. There was a tug and barge setting anchor on the east bank. A lot of the bigger boat traffic anchors during very dense fog. He directed me around his stern and along his port. One ship had just passed me going south and another was 14 minutes above the jump. I had a clear shot to cross the river at that time and my track would put me dead in the center of tiger. The 2 Garmin systems set up at different scales would make that easy at this time. A crew boat that was heading up river had been listening and offered to come over to guide me across. I kept going up river along the east bank till he got to me at about 4 mph. Although I could have cut across I chose to wait for him making the crossing safer. Once he got there I ran along side him into the jump. Once there I ran tiger with only a little fog.
It was just getting when I got in. The sun set a while ago. As I was docking the boat the port motor was hard to get in reverse. I thought it had shut off again but it did not. I turned the boat and got it tied up. When we shut the motors off they would not start again. CHUM GET OFF THE BOAT!!! Steve had a bunch of junk on his keys that had the same effect on the ignition switches as those on your auto. Another problem found and corrected.
We got back safely without any accidents also 3 blackfin and 2 yellowfin.
For the first time in years I came home with a very bad headache. It was very stressful day and I pushed the envelope just for these guys. These last 2 days were interesting to say the least.
They opted to not use me today and tomorrow due to bad weather but are staying an extra day and want to charter my boat on Tuesday. One of their boats is down. The old man needs a rest anyway after 5 days straight on the water.
Life is Good!
Fishing is not a matter of life or death. It's more important than that.
CAPT HOOP -- OUR FREEDOM
Our Freedom Charters