·
Constitution Conservative
A few days ago I was inspired to try a recipe for Sriracha Pickled Eggs, and today I followed through with the eggs and some onions.
Now begins the wait for the brine and seasonings to work their magic, next weekend I can crack the jars and try the fruits of my labors, oh yeah!
I about cleared the house with the Sriracha brine boiling, the acridness almost required a gas mask, it was intense.
I now know why the residents and City of Irwindale, CA were at odds with the Sriracha factory's emissions, WOW!
Looking forward to these!
My recipe for the eggs was:
24 hard boiled eggs
6C white vinegar
3C water
2/3C Sriracha Chili Garlic
1/3C El Yucateco Habanero XXX
3T sea salt
6 cloves garlic, sliced
1/2 med white & red onions, sliced thin
2 Lrg Jalapeño chiles, chopped
Sterilize jars and lids
Place peeled eggs into a 1/2 gallon canning jar
Combine everything
except
the eggs in a large nonreactive stock pot.
Bring to a boil then let cool slightly
Pour mixture over eggs and the n seal, shake to mix and then refrigerate
Let at least a week go by for the flavors to really permeate the eggs
The spices have a tendency to settle in the jar so shake it daily to remix
Plain & Sriracha Onions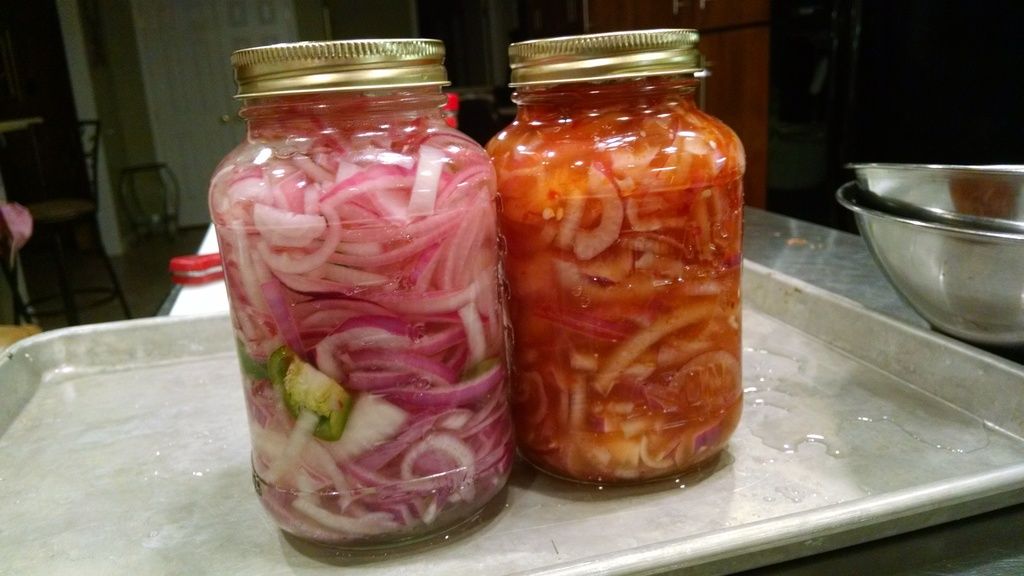 Sriracha Eggs