Discussion Starter
•
#1
•
Pelagic Outfitters Rigged Lure Sale
We have been asked to rig some of the
Pakula Lures
that we have been selling on close-out. There are some folks that do not know how to rig and others that plain do not have the time. A few who have purchased lures that Chris has rigged like the way he rigs and have requested we offer everything rigged as they like the high quality work that he does.
With this in mind Chris has been working at it and has now stockpiled a nice quantity of rigged lures.
As we were writing out this post we discussed that as a thank you to all of you who have supported us Chris will rig any lure that we carry (
Black Bart,
Zucker's,
;
Joe Shute's,
Ilander, Moldcraft, BTT, MTK & obviously
Pakula
)
This is at no extra charge to the price on our site (not all lures in stock are on the site so please call to discuss your wants/needs)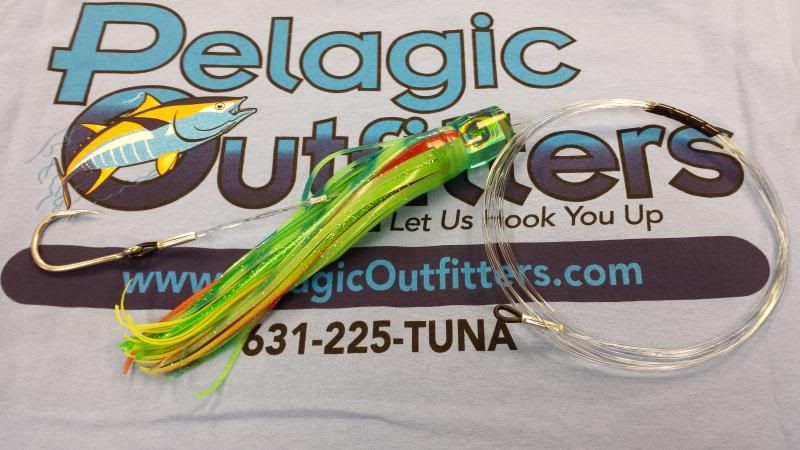 Since the
Pakula
is already on close-out we will offer this free rigging at individual website price - 25% close-out pricing (Please use code
Anniversary Sale
when ordering on our site and request.
Rigging Explanation:
All lures are rigged on 10' of Momoi Hi-Catch mono leader material with Pakula Stainless Steel Extra Stong hooks, Silver Lock Aluminum oval sleeves & Teflon Chafe protection. The hooksets are semi-stiff twisted mono (see pic) All lures are rigged with appropriate size hooks & leader material.
Cable single & double hooksets are available at an add'l cost. Please call the shop @ 631-225-8862 to discuss your specific needs.
Extra Bonus:
Buy 2 lures and we will include an 11x11" mesh backed lure bag
Buy 5 lures and we will include a 5 pocket 11x55" mesh backed lure bag
Call for quantity or group buy details
Thanks for your support and have a great day.