Discussion Starter
•
#1
•
I was asked to deckhand with One Eye Ed for Cajun Odesy Charters and jumped on the chance to get offshore. Last minute I had to take my son in law to the airport for a 5:30 flight to DC. I also had to be at Venice marina at 5:30. So far this Christmas and New Year season I had dodged the BUG!!! I was the only one out of over a dozen at my place that was not sick. I got up at 1:30 am and started my day. John got to the airport and I was at the marina shortly after 5:00. We headed out as dawn was breaking. This was the first time either of us had been offshore in a few weeks. Somebody was out yesterday and we knew from what they did, or in this case did not do, we were not heading that way.
We looked near shore looking for bait and maybe wahoo. The water was not good at all. Even Cognac was dirty and there was no bait to be had. Looks like Mars and Ursa are our next stop. While heading that way we decide to change direction and hit a drill ship. There was a bit of scattered grass and the water was very blue. We made bait but it was very hard. After 10 we decided to go with what we had. We ran to where we wanted to start and set up. We put 2 baits in and were rewarded with a nice tuna almost at once.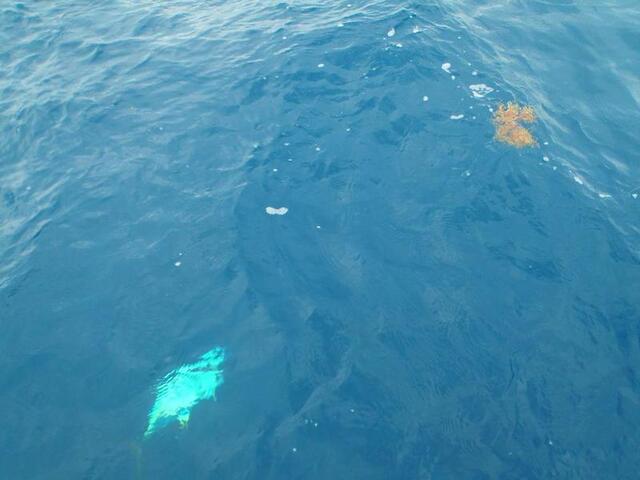 This was her first tuna and she is only 18. She is already talking about her next trip for bigger ones.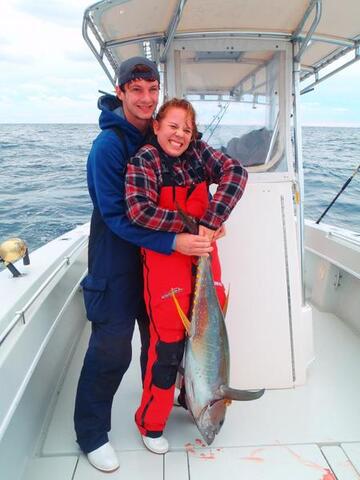 Our second one came on the next drop of baits.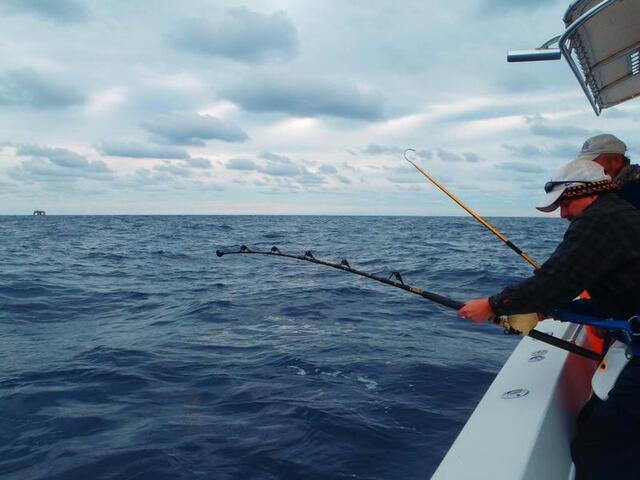 We thought things were hot at this place but to our disappointment that was the end of the action. When out here each move is a few to several miles away but we had to keep bouncing around. We picked away and lost 1 or 2.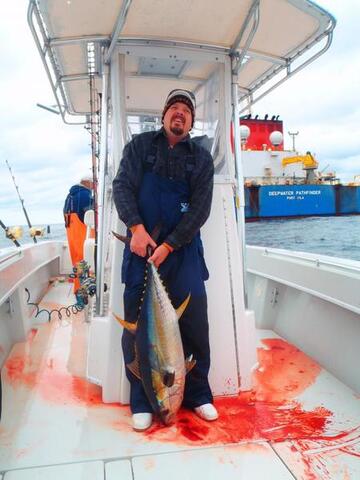 At one place our first bait in was engulfed by a very big Mahi. We had it near the boat a couple of times but it was not ready to come in. It never got near gaff reach. I had a shot at it and stuck it. The tail was still in the water and it jumped off the gaff. While this was going on we landed a yellowfin but before we could turn the boat on this fish it chewed through the line and got away with our hook.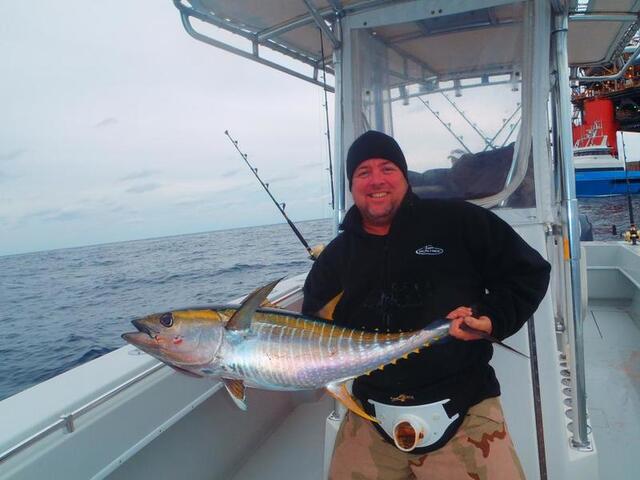 The guy that lost the Mahi also had a tuna throw the hook and I think he got bit off by a barracuda or two. It was not his day. Everybody else had a fish in the boat but everything he touched was a disaster. Ed had us pull in the baits so we could "EASE" our way to the other side. Seeing we were going slow I told him I was going to put in trolling lures. One of them gets hit with a vengeance and there is no doubt we have a tuna on the line. We clear the other lines and put our only virgin on the rod. This time he makes a big mistake and forgets to loose the fish before getting it into the boat.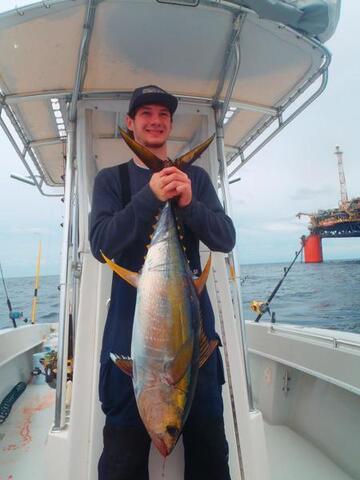 We made another pass and picked up a barracuda on the troll. It was getting late so we called it and headed in. On the way I there was a commotion and as we were investigating it I brought out the camera again. I put it on video not realizing it was on. I never got a picture of the sperm whale just a video that I have no idea of how to post it.
It was a long cold ride back in tonight. Everybody at least got a tuna for their efforts today.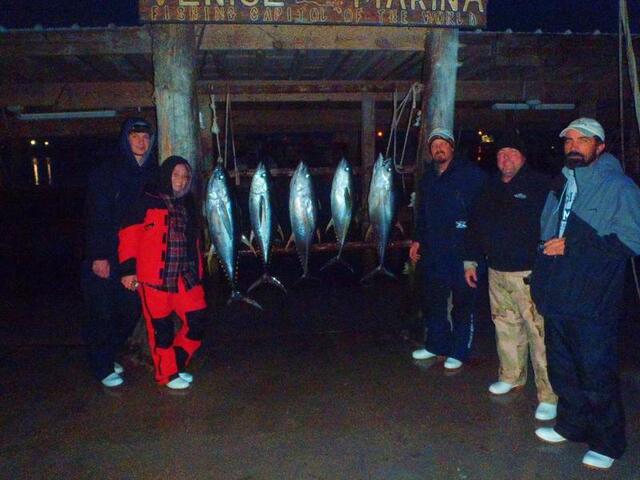 A good way to end the year with a great bunch of people. Ready to start the new year off after I kick this bug. Being worn down and a long day on the water is forcing me to attempt to rest after I go buy a new refrigerator in the morning. Mine quit today while I was out. It has been acting up lately. Just another bump in the road.
Happy new year Y'all.
Life is Good!
Fishing is not a matter of life or death. It's more important than that.
CAPT HOOP -- OUR FREEDOM