Discussion Starter
•
#1
•
Got a call from Captain Gary of Red Eye Charters looking for a deck hand on an overnighter. My schedule was open so I jumped aboard. It was very cold for this area and I was not looking forward to staying up 36 hours and getting wet but fishing is my life Soooooo.
We started out at 6:00 in the morning. Our first stop the water was not as warm as we wanted but we marked fish so in went the trolling lures looking for maybe some wahoo. We picked up a pair of blackfin but soon we discovered the source of the markings.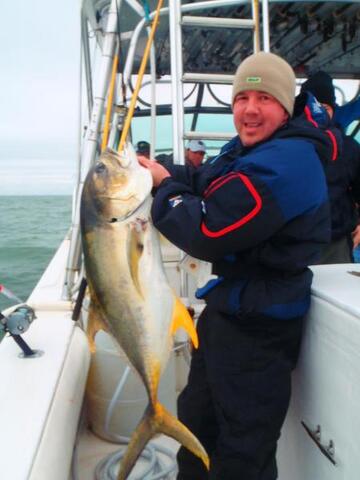 It was early and we did not want to waste time with garbage so on we went. It was not a total waste with 2 blackfin in the box to start.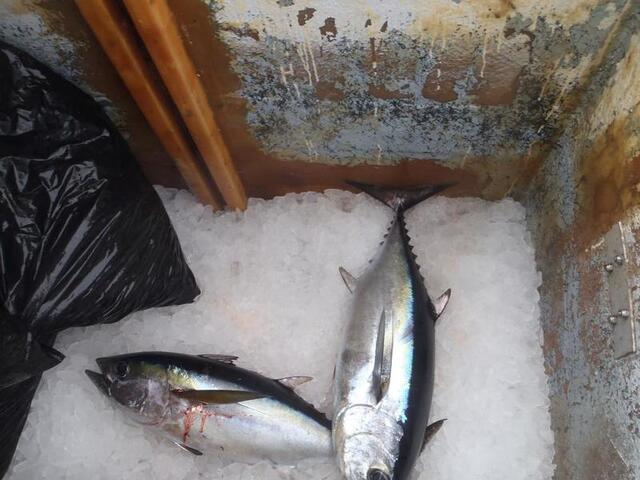 When we set up the box for fishing we put a layer of ice on the bottom and bag the bulk ice in bags. This allows the box to stay cold and as the fish get layered I pick up a bag and spread the ice over them which opens up a hole for more fish.
We moved out further and got to a drill rig that was loaded with bait. My first drop with the sabiki came up with one good bait on every hook. With 2 of us getting bait we had more than enough in no time. Trolled around it to locate the fish and the blackfin were nice to us. I am testing a prototype of a Russelure and I am very happy with it.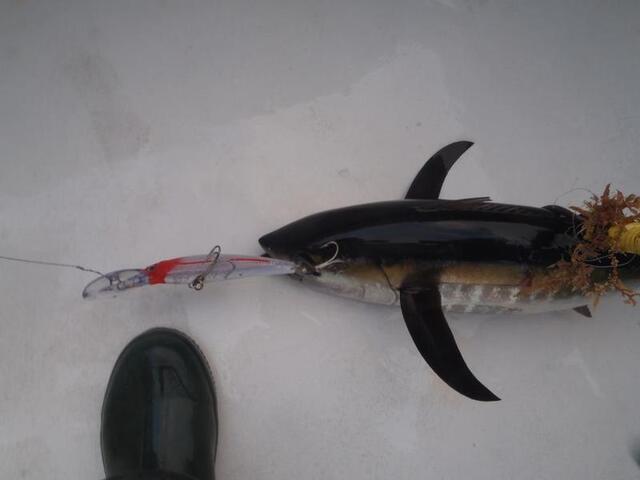 We located the area around the rig and set out baits Could not get past the sharks so we moved on. At Who Dat we found the same problem. The water was 69 deg. and clean blue but the sharks honed in on our baits. We headed further out and went to the Mars and Ursa rigs.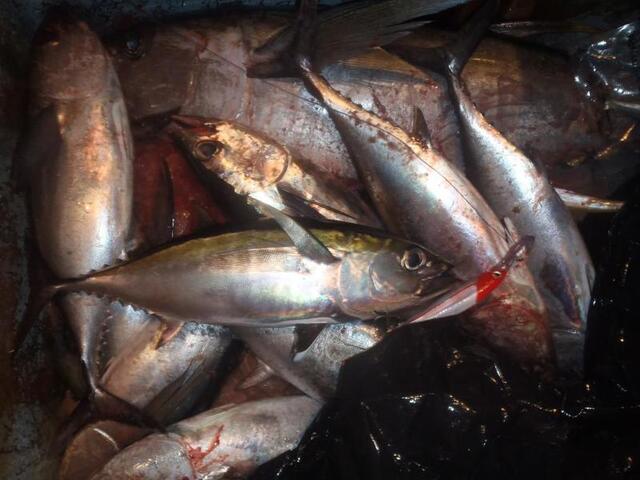 Our box was getting some meat but unfortunately just blackfin either trolling or live baiting. Nothing at all happened chunking which I found unusual with blackfin around.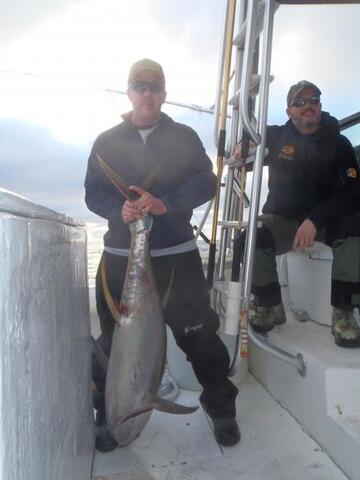 Just before sunset we pick up our first yellowfin. This was also the first time we saw any trace of sun. The water was warm but the air was cold. There were times we had a visible vapor rising from the water. The breezes did not help either.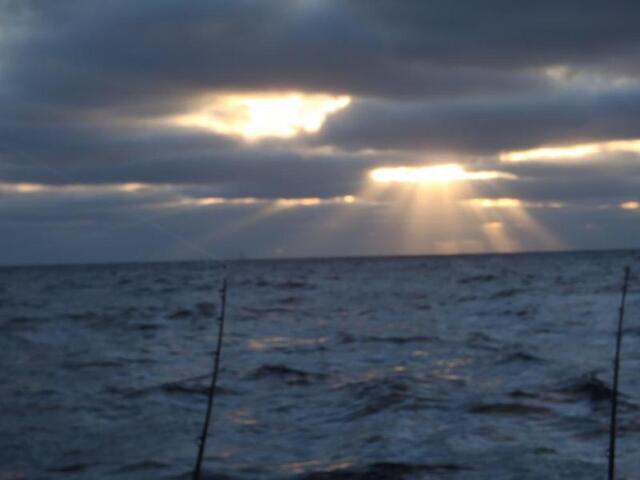 As it got darker the gang got into jigging and we had to discourage them before we ran out of room for yellows, wahoo, and amberjack. We did some C&R before we made our next move. I ran the boat at 7-8 kts which is safe running in the dark open water and conserves fuel. This move gave all a chance to get some sleep except me I ran the boat and kept watch. When we got back at Who Dat the water had changed color, a bit cooler and the sharks were hungrier.
We headed further north east and found nasty water that made us question our move but we could hear other boats in the area we were heading so we knew if we continued things would get better. It did and we kept looking for wahoo and other fish. The blackfin did not let us down.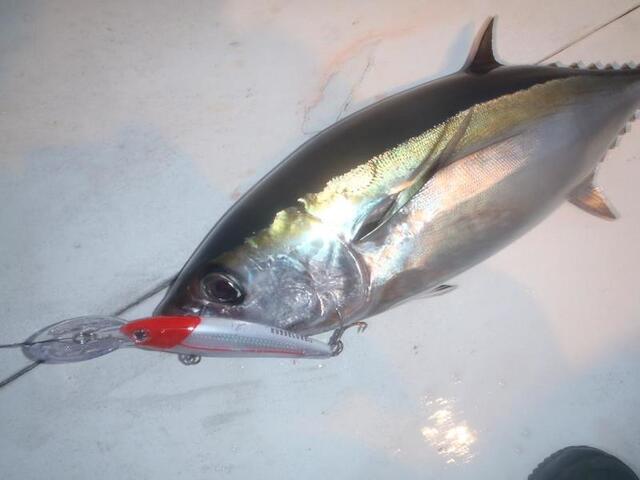 Still desperate to get some more fish in the box we drop down live bait for amberjack at a "go to" amberjack rig. The sharks would not let our baits fall. Even with a 28 oz. and no current they still hit us. Now we are at the horse shoes. The water is clean blue and 70 Degrees. We trolled a bit to locate fish and the kings were there. Once we figured out the drift we set up for chunking. The area was thick with kings and sharks which is common but the tuna are usually mixed in.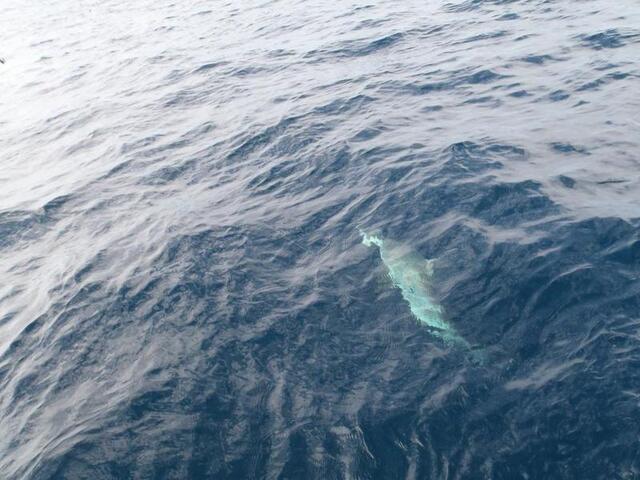 At this time the guys pulled the plug because some of them had to be in work the next day and had to drive home to Tenn. We ended up with a BUNCH of blackfin, 1 nice yellow and 3 kings. One of these kings would be a money fish in most tournaments.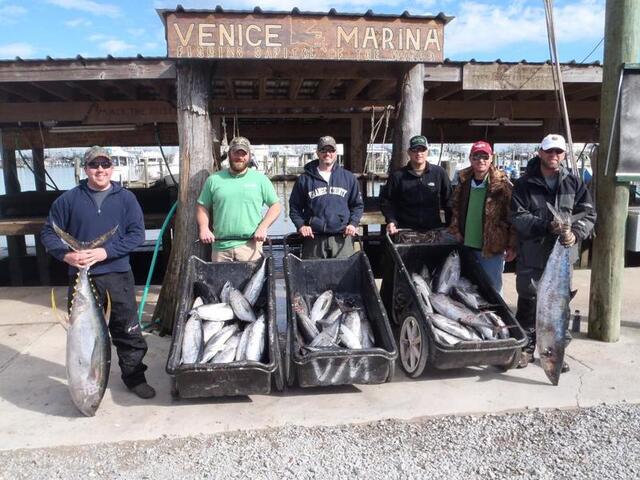 After a fish cleaning party we sat down to some of our tuna cooked by the Venice Marina restaurant. Once I cleaned up all the leftovers I headed home and went to sleep for almost 10 hours. My normal sleep time is 5-6 hours so I must have needed it.
Life is Good!
Fishing is not a matter of life or death. It's more important than that.
CAPT HOOP -- OUR FREEDOM