Discussion Starter
•
#1
•
I originally had these guys from North Carolina for 5 days but after the first 2 days of nothing but one thing after another they took a 2 day weather break. They decided to charter my boat and 1 other if I could find one. I made a call and Mike Pittman had an open date. The only thing I requested was Chum not to be on my boat. He is a great guy and fun to be with but the black cloud that follows him was not welcome. As I left my home in the morning the road was blocked and I had to turn around and go the long way. The first thing I thought of was the curse of chum is following me. A power pole had caught fire and was burning in the center from top to bottom. Not Chums fault.
As they were loading guess who crossed my boat to board the other. You Guessed it! We rolled out and made the long run south to one of the many floaters. Once there both my radios shut off. I checked the wires, connections, and fuses. All was well. Being already out there we fished anyway. I was marking a lot of fish but there was no water movement or wind. The chum was going straight down and the boat was just floating around. We jigged up some blackfin just to have a shark eat half of it before we could get it up. At least we had some chum.
There were tuna busting and we were throwing everything at them without any takers. Without any communication I had no idea what anybody was doing. It was a slow pick type of day. We used live bait, red meat, pogies, jigs, and poppers. We were able to manage 1 yellowfin on a popper. This is the first yellowfin I caught on a Russelure popper. Have had nothing to throw at until now.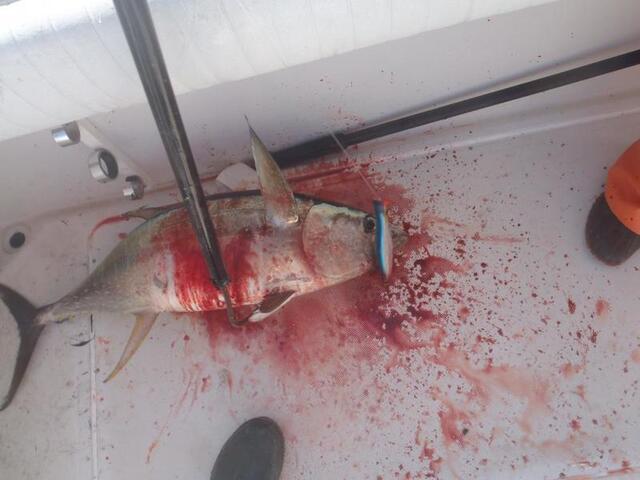 I gave them the option of heading back and trying for some amberjack but they wanted to keep trying for tuna. I extended the day as long as I felt comfortable.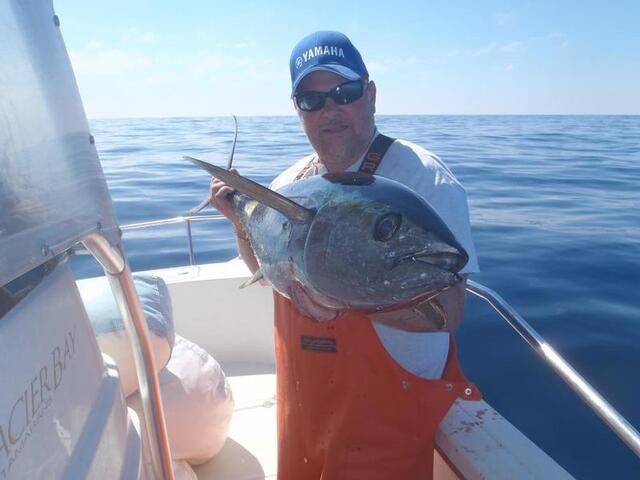 I wanted to beat sunset in. By this time I had no radios and my radar and main GPS system was out. I had a back up GPS that was good. I managed to get in before dark. At the dock I told my customers for today the boat was down and we would have to check it in the morning. It was already too dark to worry about it now.
We came in with 3 whole, uneaten blackfin and 1 yellowfin Not for lack of trying just no water movement. I made it in safely and without any more incidents. When chum crossed my boat in the morning he left his juju on my boat. We found all the problems and will fix it in the morning. My buss bar that holds the fuses broke and the lower 3 fuse banks were not getting power. Another problem was 2 loose connections in other places.
Life is Good!
Fishing is not a matter of life or death. It's more important than that.
CAPT HOOP -- OUR FREEDOM