Sensitive content, not recommended for those under 18
Show Content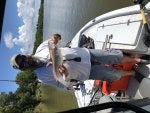 Started the day off with a sleepy crew and pretty bait box. Lisa put another 27lber in the boat but all I could find was eaters. Kept the small ones for the grease.
I'm trying hard to find a 50lb fish but starting to wonder if I ever will. Seem to be stuck in the 20 and 30's. Gonna keep trying though.
Tombigbee drifting big baits.