Discussion Starter
·
#1
·
Hubbard's 39 hour 4/16/21 Middle Grounds trip in pictures
Friday, 3:00 P.M. the Florida Fisherman ll is ready and so are we. Be sure to arrive early; there are always interesting things to see: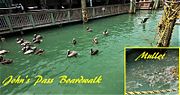 The Great Line Toss
Will hits the gold... Fantastic!
Good start...
The versatile Porgy:
Porgies are a versatile fish that can be used in many preparations. The Porgies mild flavor works well with a variety of flavor accents. They are a white-fleshed fish, medium fatty, not too lean, not too oily, with a sweet delicate flavor.
They are rich in vitamins and minerals; a good source of Selenium, Vitamins B6, B12, Phosphorus, and Vitamin K.
Porgies come equipped with strong teeth that can handle a diet of fishes and hard-shelled invertebrates.
With NO size-possession limits, and NO closed season, the Porgy is a prime target:
Talk about a prime target... Th Vermilion Snapper:
The Vermilion Snapper can be found in tropical and warm/temperature waters of the Atlantic from Cape Hatteras to Southern Brazil, including Bermuda, the West Indies and the Gulf of Mexico. Their preferred habitat is an irregular reef-like bottom in waters from 80 to 350 feet deep. The flavor of the Vermilion Snapper is so good that it's often sold for Red Snapper:
The Mangrove Snapper:
The Mangrove (Mango) Snapper is a species of snapper native to the western Atlantic Ocean from Massachusetts to Brazil, the Gulf of Mexico, Bermuda, and the Caribbean Sea. Mangos can be found in a wide variety of habitats, including brackish water.
Florida Middle Grounds Mango Snapper tend to be large, and, with NO closed season, and a two day possession limit of 20, they are a prime 24/7 twelve month out of the year target. The food value is excellent:
Talk about a proud father/daughter:
Talk about a beautiful fish: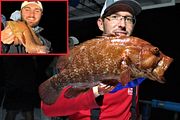 The Friday night catch looks good, but we are getting terribly hungry:
Tammy to our rescue: