Discussion Starter
·
#1
·
I decked for RJ hunting and fishing. After the last few days I knew right where to go. The bite was slow at first. We marked a few but they were not active yet. We did get 2 blackfin. Once again when I suggested cutting one up I was the most hated person on the boat. I took the knife to one anyway. This move did not help much. The bite started getting better and we were now marking them well. We soon had our first yellowfin in the boat.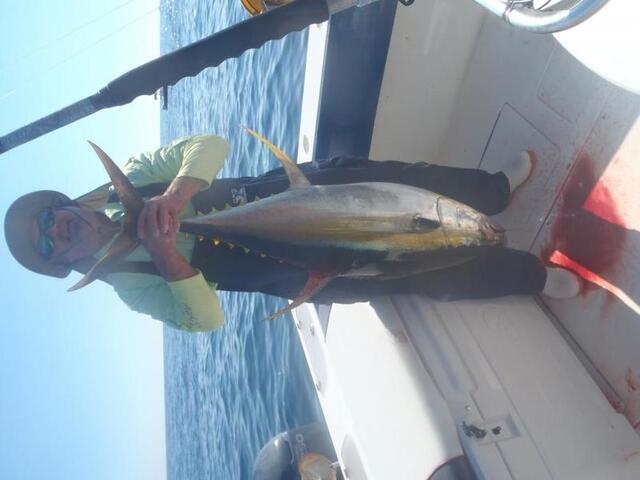 We had several doubles on but with the power of these 80 to 100 class fish they would fight enough to pull the hook or find a week spot in the line or a chafe or rub from the hook set in the mouth allowing the teeth weaken the leader. In this particular double that was the case. The fish in front broke free. We also had sharks in the area nailing our fish.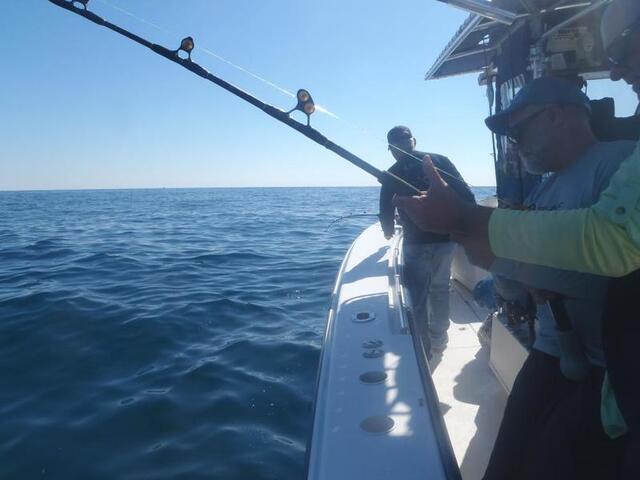 The one in the back came in to visit us though. After the battle his arms were too spent to lift the fish. He did great.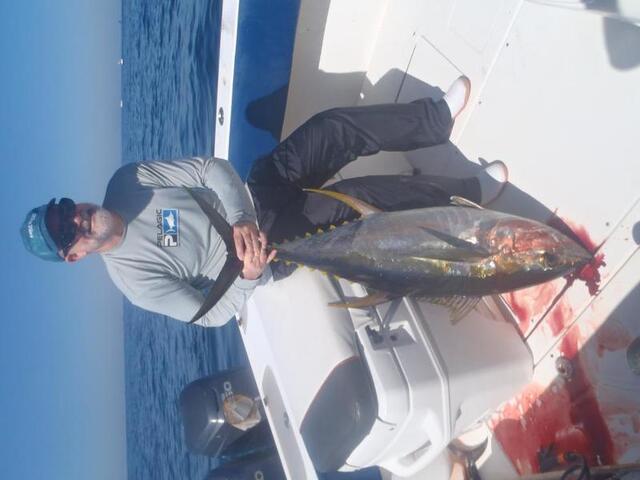 It got to be a bit aggravating hooking up and loosing the fish after a 15 to 20 minute fight for one of the guys. He was getting more spent making it harder for him to fight the fish. He had not got any fish all day. He was determined to not give up the rod and because of that we had one at a stand still. The fish finally worked the hook out and we lost another. We discussed how the fish was lost and he decided to tag team the next one. Once again the forearms were spent. Lifting after several fights like that for somebody that does not do this on a regular basis is a bit hard.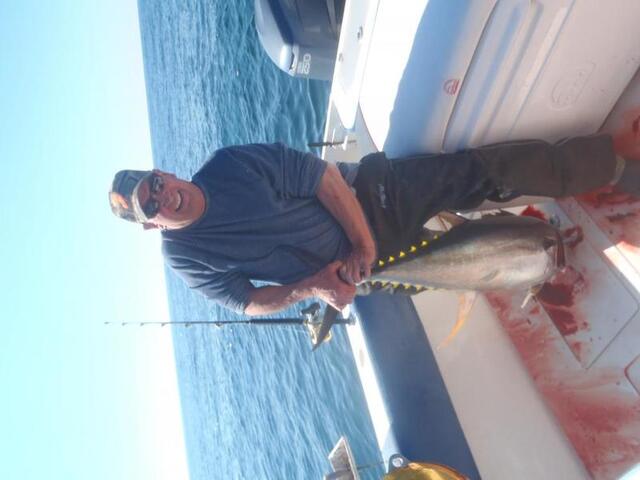 We tag teamed another and rightfully so. This guy went just over a hundred. It was a nice fatty and used it's broad shoulders to battle both of these guys. This picture does not show the size of it well but I did not attempt to hang it for the picture.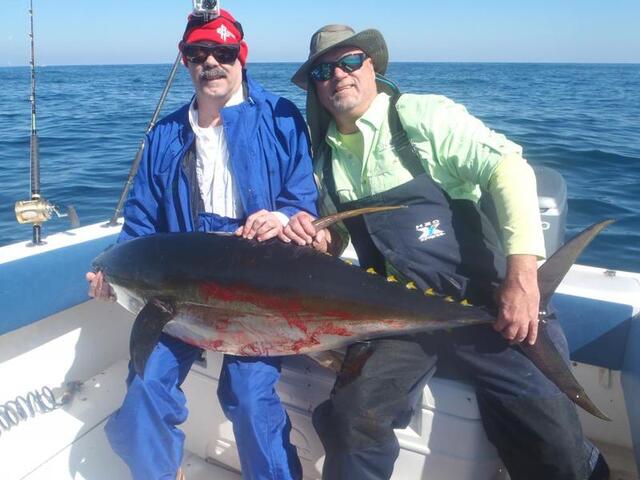 By 1:30 we had the fish box full and after packing the fish and picking up the boat we headed to the barn about 2:00. We would have been heading in by noon if we had not lost 5 good ones in between catching these.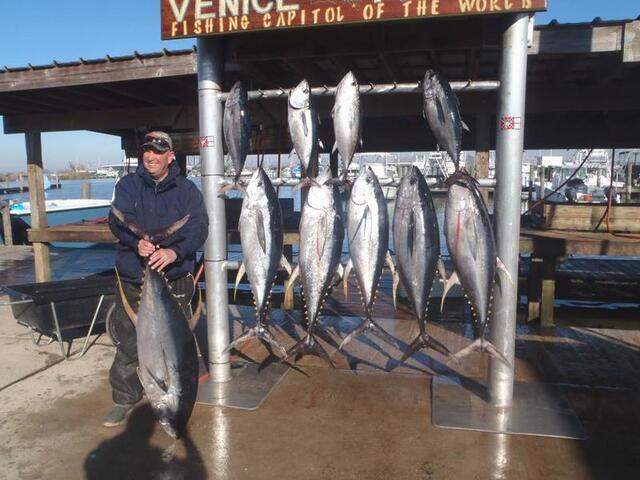 6 yellows and 5 blacks, one of which I cut up, makes for a good day and happy customers.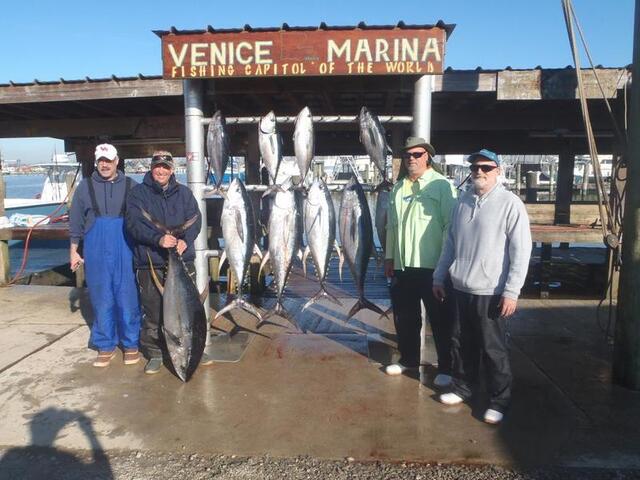 Not mine! Have to share this with you. There were a lot of big sharks out there attacking our fish. This monster tuna was eaten by a shark as the boat was fighting it. What was left weighed 82 pounds. No idea of what the fish weighted.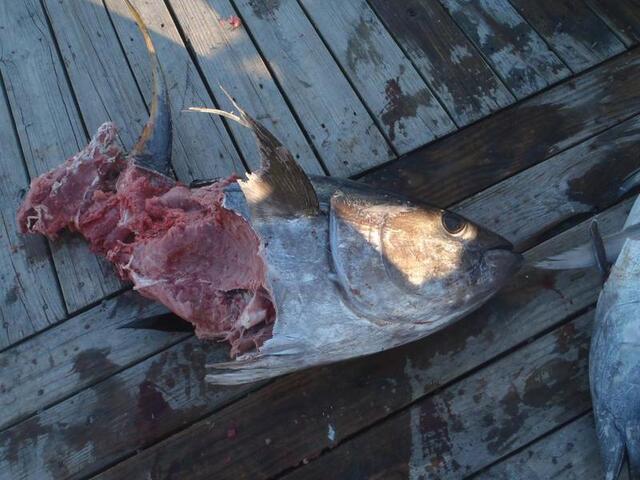 Life is Good!
Fishing is not a matter of life or death. It's more important than that.
CAPT HOOP -- OUR FREEDOM