Discussion Starter
•
#1
•
I already had 4 good days with yesterday almost going bad. Today was the last day of red snapper season but we wanted to try for some tuna first. I had Rob30 from THT on his fairly new to him ride.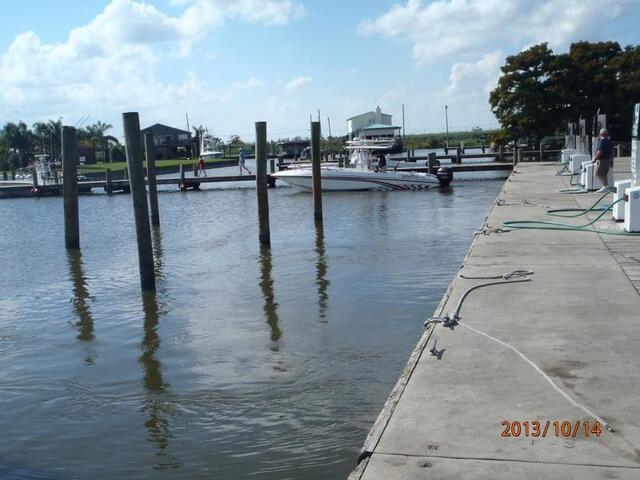 This rocket is a very fast and smooth machine. We headed out early and watched an unusual Halloween type of sunrise.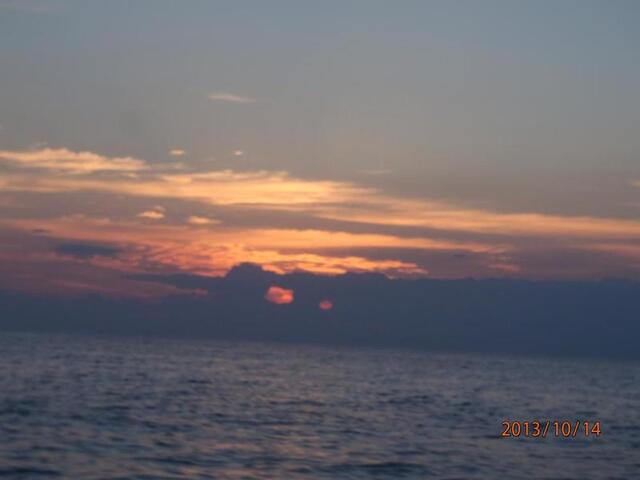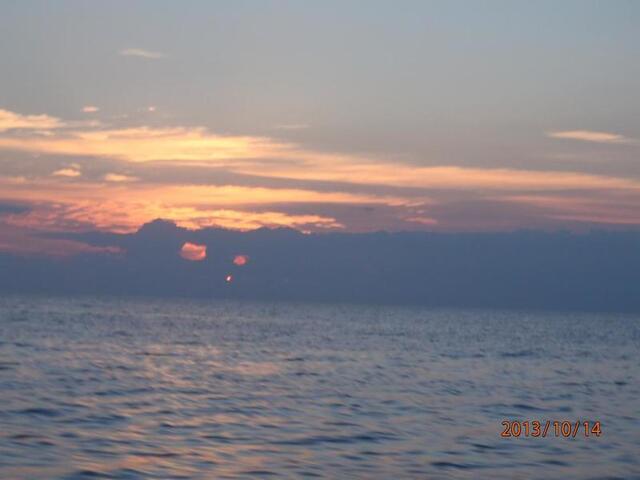 We made bait and headed out to the shrimp boats. One of the captains that came in late yesterday told me there were none in the area last night. Most of them were in at the dock this morning so I was hoping to find something and luck out early before the gang got there. Our first drop we hook up to a big fish and it snaps the 80 pound leader almost instantly. I can't be lucky every day. The drag was way to tight. He had used it for amberjack last time and with my reels being always set I did not think to check his one. On the next one Cody gets the honors.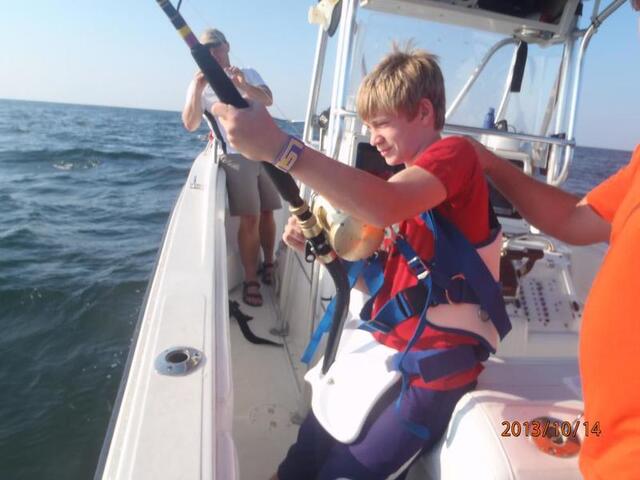 This young man made short work of his first tuna which was a good blackfin.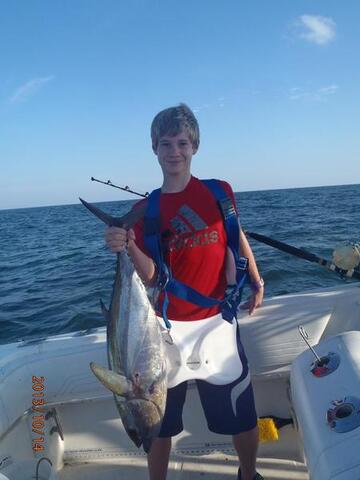 We got a bonito and another blackfin but the fish were gone and the shrimp boat had pulled its nets and headed for home with nothing showing on the screen any more. We decided to head in and find some amberjack and snapper as planned. The first rig had barracuda and sharks. The second one had a LOT of sharks. We go in shallower and are now getting some action On the bottom a big white trout comes up. I find the fish about 20 to 30 seconds down. An almico jack is the next thing in the box. Next a small amberjack which goes back. We keep getting pulled into the rig and breaking off. We found a nice scamp also but the red snapper and amberjack were destroying our equipment in the structure.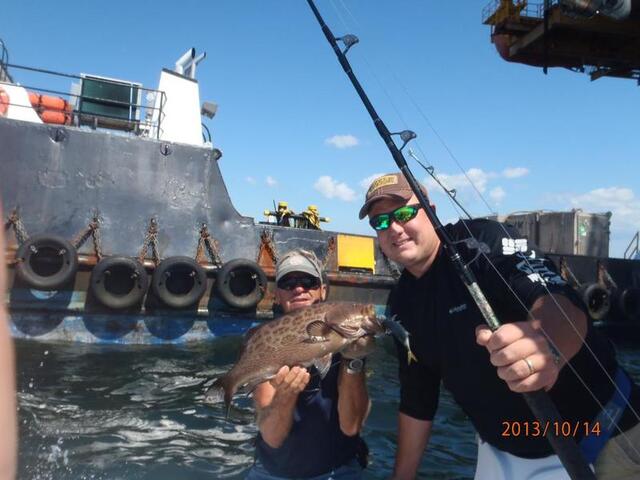 I was able to work a just legal amberjack out of the pipes by hand and it is there we decide to get off the rig and go for amberjack with the remainder of our live bait. We got some hits on every drop but the boat could not pull them off quickly enough. Another part of the learning curve. Eventually they worked into the AJ hole shot method. We picked up 2 good snapper on live bait and lost a very big amberjack in something after we pulled it away from the rig. Apparently there is a good amount of debris or hurricane damaged structure out from this rig that they kept finding. With our last live bait we hook up to another big amberjack. This thing also finds the structure way out from the rig. I have rob turn the boat and go back towards the rig. This fools the hog into getting out and heading back to the rig. Once in between we have it in the open and Cody's dad is about to meet his maker. I said it right. He got his butt handed to him but never gave up the rod. His pride almost killed him.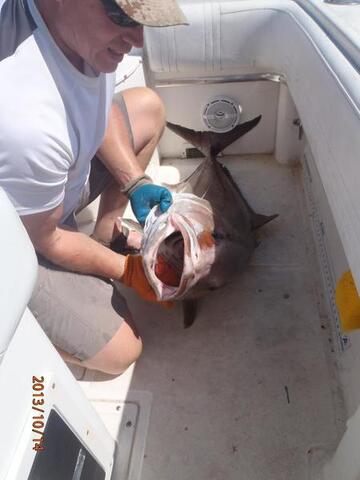 It was worth every bit of the hurt for this Tenn. boy. He felt the true meaning of Reef Donkey. At 65 pounds it was only 1/2 of the record so there is a lot of room for improvement. *The biggest on my boat so far was an 87 pounder that took 3 people to get it in.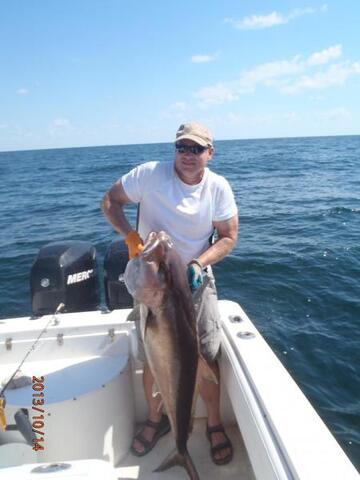 After that we ran in closer and hit another rig that had the water rushing like crazy. We attempted to get on another but 2 boats were already there. Good thing because we went next door and made quick work of a limit of big snapper with the biggest being 15 pounds. We ended up with a mixed bag but a very good day with a good group.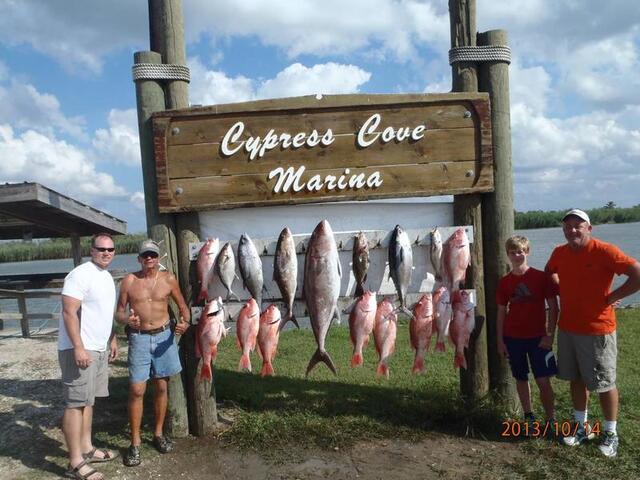 Life is Good!
Fishing is not a matter of life or death. It's more important than that.
CAPT HOOP -- OUR FREEDOM