Discussion Starter
·
#1
·
I had some life long friends in from Eclectic, Alabama on friday and my schedule and the weather worked out to take them offshore and pull on some aj's and introduce them into deep dropping. The alarm went off early at 4am and so of I went. I picked the boat up at 500 am from my office in west mobile and headed to orange beach. It was only my second trip trying to deep drop so I'm no expert by any means.We left boggy point around 715 and headed out to let them pull on some aj's to start. The bite was actually kind of slow for us and we only boated 3 and lost 4-6 aj's and jigs to the structure but managed 2 around 40lbs. We moved over to some deep bottom around 1230 or 100 in hopes of some grouper and seabass and weren't let down. We only used one rod and reel asthere were only three of us awake as all the women and children had succomed to thedramaminethey took the night before and morning of.We hit between 5-7 spotsover 2.5 hours trying to find the honey hole but only managed 1 snowy, 1 12# yellowedge, 4 blueline tiles and 3 longtails.All in all not to shabby for my first go alone with an inexperienced crew and only one rod being used.In the end it was a beautiful day on the gulf and great to spend it with close friends. Finally made it back to west mobile at 11pm and hit the bed, long day but always worth it. Here are a few pics of the trip.
Alissa and here AJ she helped her dad put into the boat after he started yelling "my back, my back" good thing she was there!!!!
OClint and Logan with one of the tiles.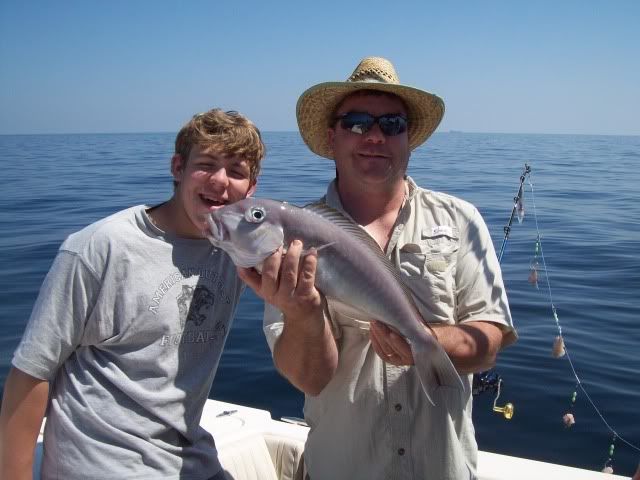 Chad and Logan with a beautiful longtail.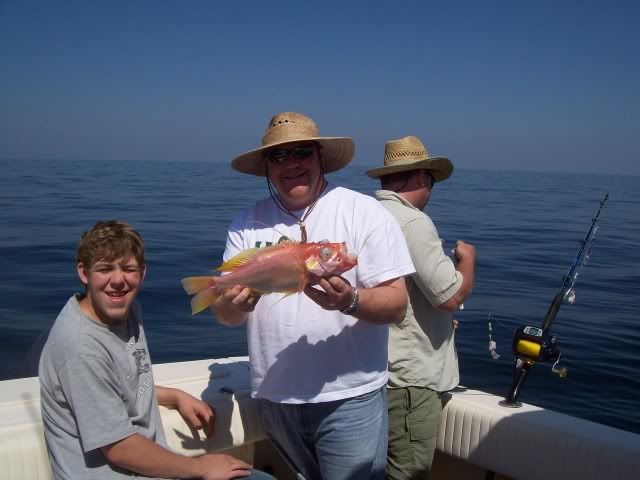 Myself with the yellowedge and aj.
Part of the total for the day minus a couple tiles in the bottom of the slush in the fishbox.