Discussion Starter
·
#1
·
Finally had a break in the work schedule and a weather day to match so we loaded up the grady white and headed suth in hopes of finding some deep water grouper spotsout of dauphin island. Boat in the water by 630am and off we go. Seas were pretty choppy to start with and out of the sw so it wasn't the best ride out but at about 35 miles the wind began to lay down and the seas went to less than a foot by noon.
First spot we stopped and caught some bait and a blackfin tunaand then made our first drop in 500ft of water. We boated only a handful of fish one being a nice 15lb snowy but not much else so we decided to do some prospecting. We hit 5 or six other spots throughout the day before we finally found what we were looking for. With some fresh cuda on the hooks we started bringing the grouper and longtails in 2 or 3 at the time. We fished for nearly 2 hours with nonstop action and ended the day with a nice bag of fish. Not too shabby for our first trip deep dropping out of dauphin island.
The catch of the day had to be bringing up an amberjack off the bottom in 740ft of water. THANK GOD for the kristal electric because we may not have been back yet if we hooked him on conventional tackle. He went 45lbs. Beautiful day to be fishing and some good eats also. Final tally was 16 snowy and yellowedge grouper, 4 longtail bass, 2 golden tiles, nice 45 aj, and one blackfin tuna and blueline tile. First golden tiles for us but not too much to speak of as they were tiny. Here are a few pics of the day. Already planning our next trip.
Double rig out of dauphin island before sunrise.
Eric with a nice pair of grouper.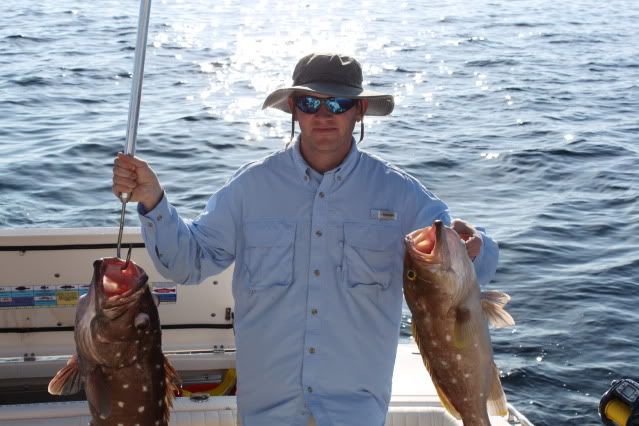 Spence with a nice longtail.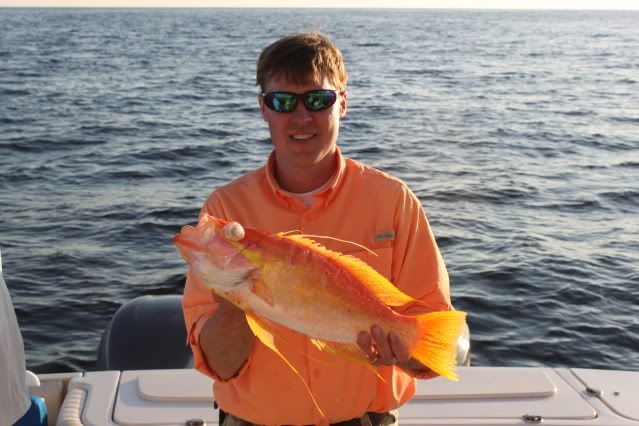 Myself with a couple grouper.
Group shot with the catch and new cleaning table..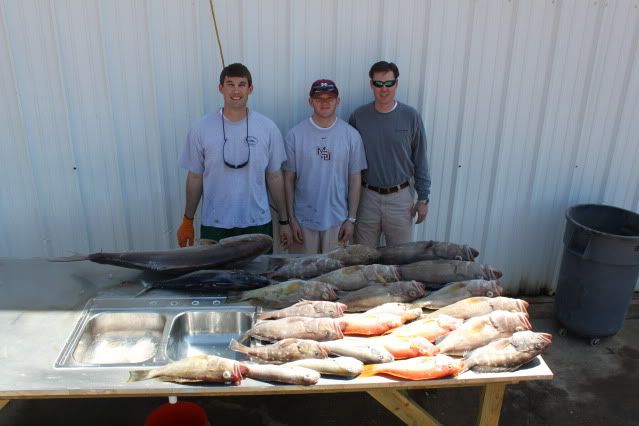 Sun going down on us as we still had 20 miles to go.