Discussion Starter
·
#1
·
<DIV class=smallfont>
First of year
</DIV><HR style="COLOR: #d1d1e1; BACKGROUND-COLOR: #d1d1e1" SIZE=1><DIV id=post_message_2540294>To say I have something to build on is the least. Last week the action was getting better all the time and the day before the tuna were stacked up in the usual winter spot.
Had Steve Carol and his buds from Oklahoma. The seas were flat and after the run down river in the fog we hit a warm pleasant gulf. I hit one rig for wahoo and nothing. The water was not as clean as I would have liked. Before leaving there we dropped down for some amberjack or grouper. I have luck at that rig with scamp grouper also. Found some Jack Crevalle and that was enough to drive me out of there.
Got to the tuna spot and had bonito under me right away. Good sign! That was short lived as the kings and sharks showed up. In the mix of big sharks a Mako about 350 pounds decides to make my boat a home and feeding ground. I grab my shark wire and put it on a 50 wide. Fish on! The drag broke on it shortly into the fight and we struggled to get line on the hog. It came close to the top under a boat near me but it never jumped. It kept diving all the time. We had him on for about 25 minutes. He came close enough to us to tease us a few times but the main line broke. I figure a king or another shark ran through it.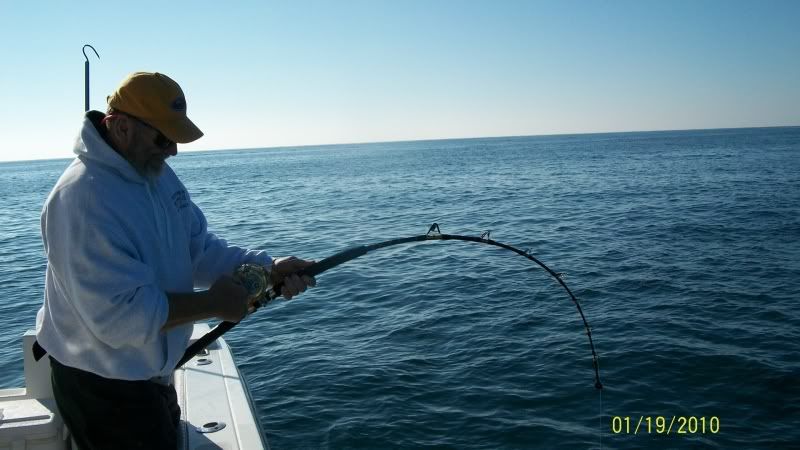 After getting a ton of kings and several other large sharks the guys were hurting so we went looking for other fish. We hit a rig and trolled it first for wahoo or amberjack then changed our tactics.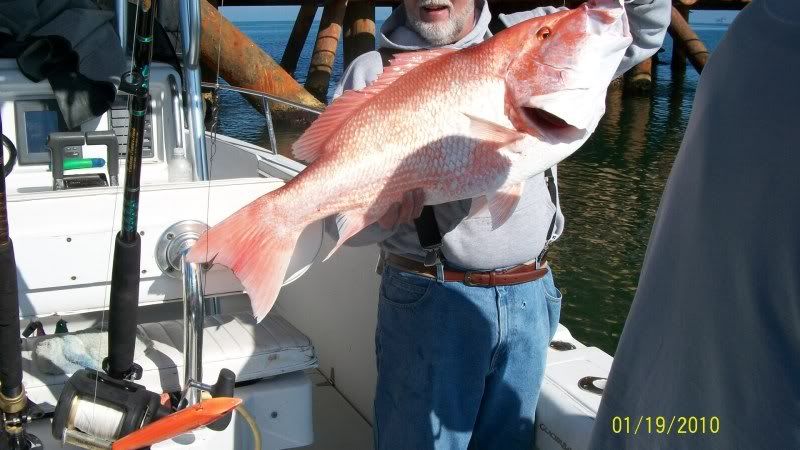 Found some VERY nice red snapper. 20 pound class.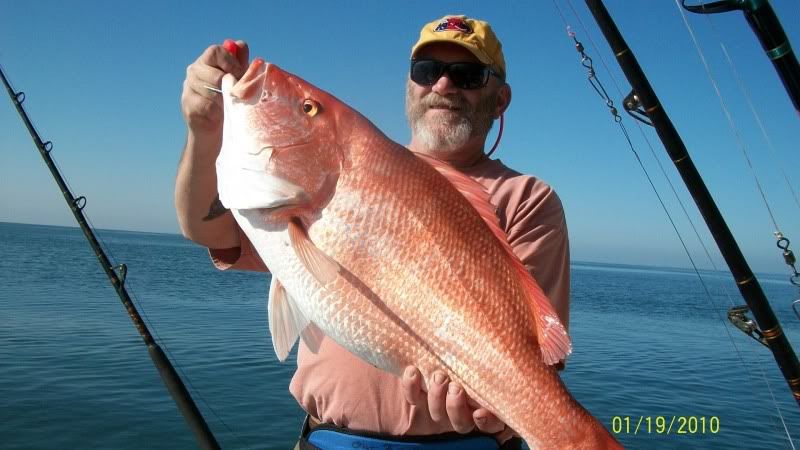 Before the day was over we did manage a 45 pound warsaw grouper.
For a first run the catching was great, tuna and wahoo elusive, amberjack hideing, snapper promising and grouper nice. All those different types of fishing in one day is what makes this area so appealing. It's a start for the year. Off and running.
Second day with these guys I went inshore with them on a flats boat they brought with them. We hit the Empire area so I could get him familiar with the waters there. I do not fish in shore much but do know the waters around my home.
The winds were gusting to 20 mph. from the South and the fog was dense to say the least. At times less than 100 feet. It never let up all day. We were limited to running on electronics all day. This boat had a trolling motor GPS controled. It was able to hold us on a spot even in the winds we had. It also was able to run a line along the bank as preset. I was very impressed with it.
On our first stop it was fish on. We did not stay there long because I wanted to show them other areas. The fog was relentless.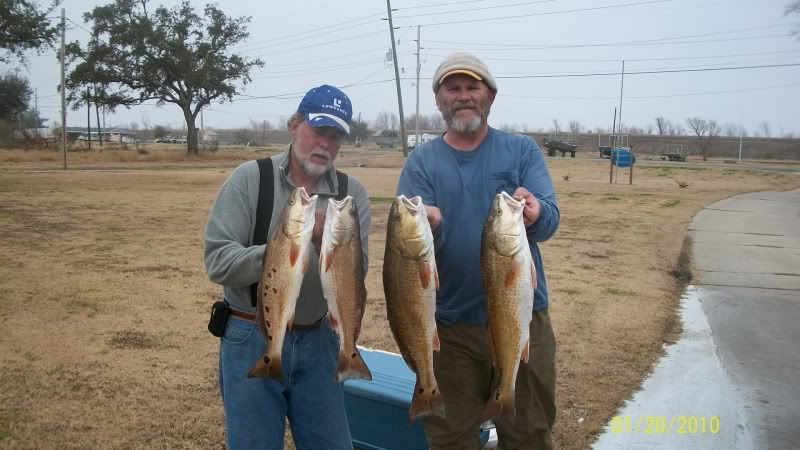 Did not get any pictures on the water but got some at the house. We made several stops and picked up a few here and there. It was a very enjoyable day on the water with 3 great guys. Ended the day with 10 redfish and only 2 throwbacks, a black drum, and a sheeps head. Something was wrong with the black drum even before I cleaned it and as soon as I cut into it I got rid of it. Got a nice pile of meat out of the rest.
Life is Good!
Fishing is not a matter of life or death. It's more important than that.
CAPT HOOP -- OUR FREEDOM </DIV>Venice, La.</DIV>