Discussion Starter
•
#1
•
Although I have my own inshore and offshore boats I also run on private boats just to help them learn this area.
I have 2 boats scheduled for the next 5 days. My first day was on a Prowler with twin E-tecs. The other boat is this one. It has twin diesels.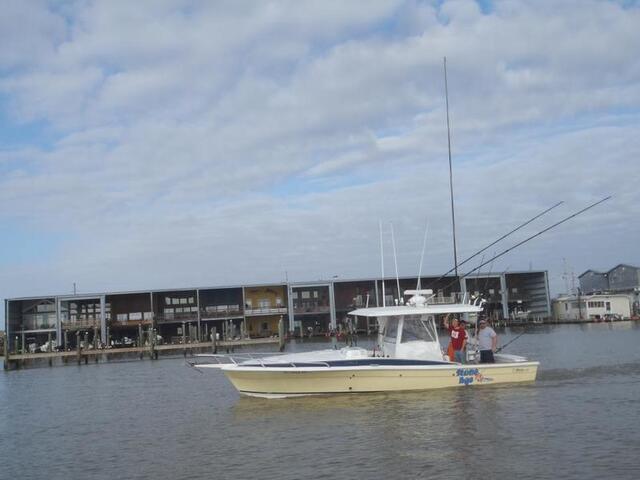 Thus the saga begins. The procat has no radar but this one has so we will run buddy boats due to the always present fog threat. The first day was clear by the time we got everything ready. I led the way on the prowler. We took tiger pass. Once in the delta one motor quits. Sounded like a fuel problem but it quickly got running again. Another 10 miles or so it happens again. The boat had been sitting a long time so there may have been some settlement. It ran good the rest of the day. As we get to the mouth of the river the current against the seas gives us some big rollers but we ease our way through them.
Once on the other side we just have to contend with the chop of the water. We were running along at about 23 mph so we would not get beat up so bad. A third boat was with us and he was ahead of us. As I am running I look back and the other boat is not in sight. He was hidden by a rig but not running. I get him on the radio and he tells me "NO problem"???? He is just checking out some smoke he has coming into the cockpit. I turn back and head to him. By the time we get back to him he found the problem. A broken motor mount and the engine shifted about 2 inches. He wanted to transfer some people to our boat and the other boat but I told him that was not happening. It was way too dangerous with the seas. He limped in with one motor at 7 kts. I told him what rig to hit on the way in so he could salvage the day with some snapper.
While this was all happening I get the story about a guy named Chum who is on his boat. It seems he has bad juju all around him. Remember Chum!
We continue on and get to the 93's Kevin Beach is there and he has trolled up some tuna and wahoo. He said it was very slow. We start trolling and not much happening. I am marking them well so I decide to start jigging. This got us a blackfin but at least after the morning we had it was a good sign.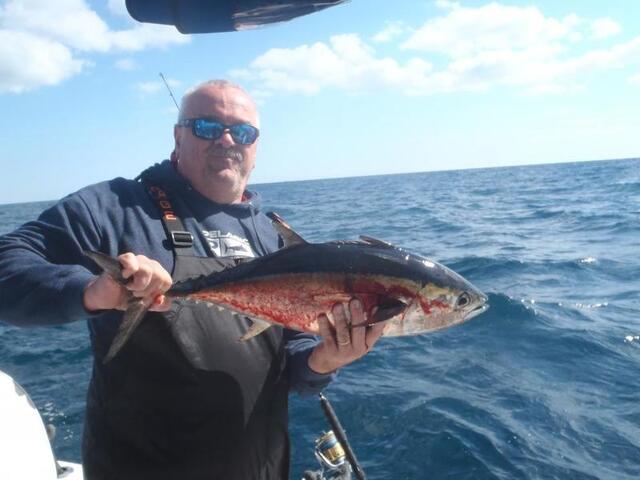 These guys are all good fishermen and jigged hard and well. I was marking them very thick. So thick they should have been foul hooking them. We picked up another but that was it.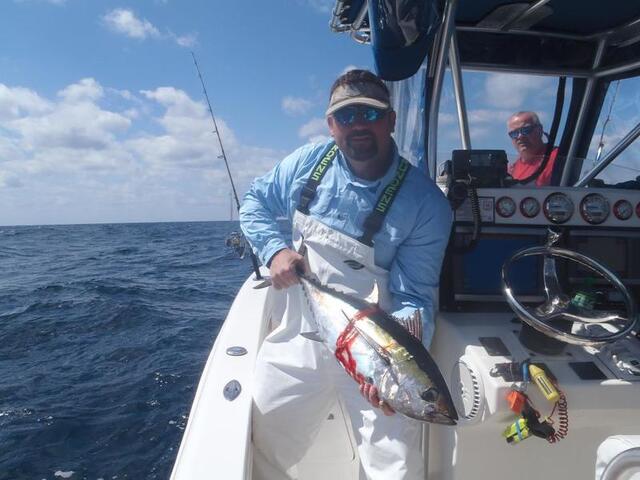 About 1:30 with slow fishing happening all around us we change our tactics. I check with the guys and they are all struggling. Eddie Burger and I have identical catches on ice at that time. We take a shot at some jacks and the first drop gets us a keeper.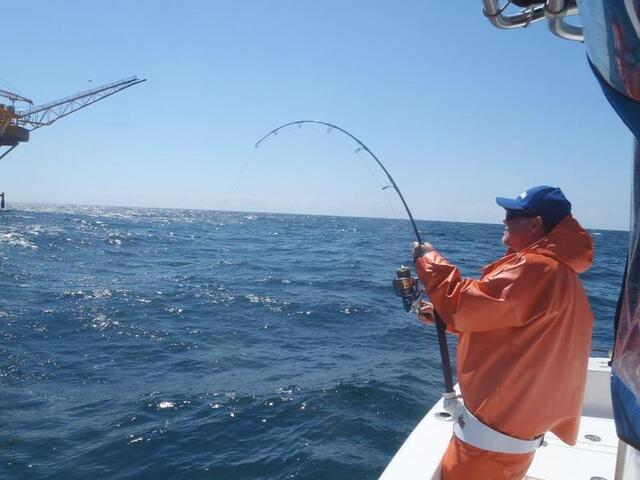 I have 4 guys jigging very hard.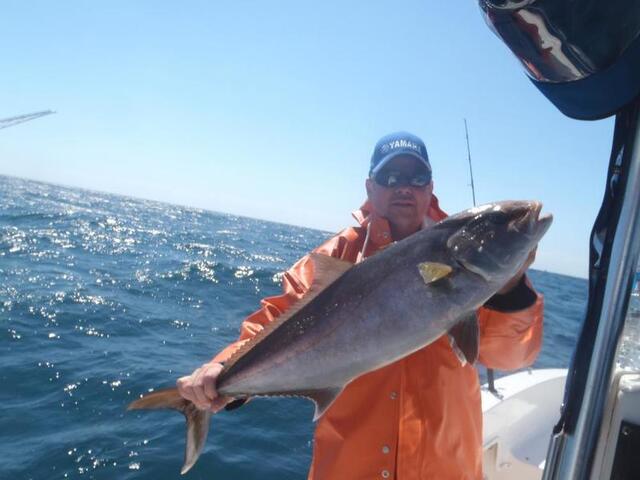 The next hook up gets us an good Almaco.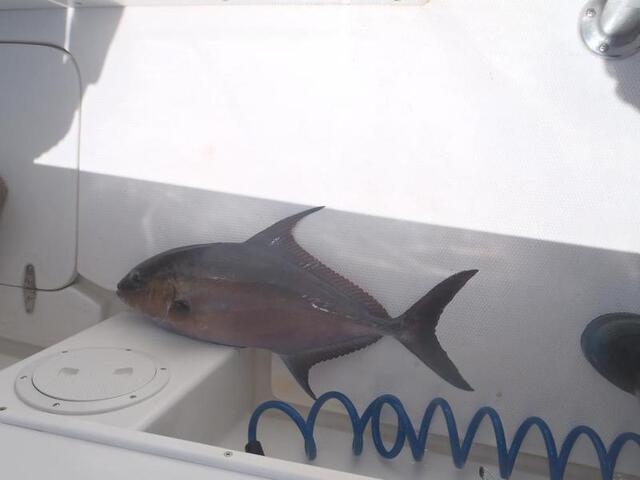 It is getting late so we decide to give red snapper a try. I hit a rig near the pass. Once tied up we shut the motors off and start bottom dunking. The fish are small but we pick through them keeping 4 fairly good size ones and 5 white trout. I am not satisfied with what we are catching so we decide to move. I go to start the engines and nothing is happening. I told the guy in front he should have not released the boat from the rig but he did not. The rope slipped off the pad eye on the rig. We are now adrift. One battery is dead. We get one motor running and jump the other. On the way in we hit another rig but this time we keep the motors running. We do not need to tie up because there is very little current.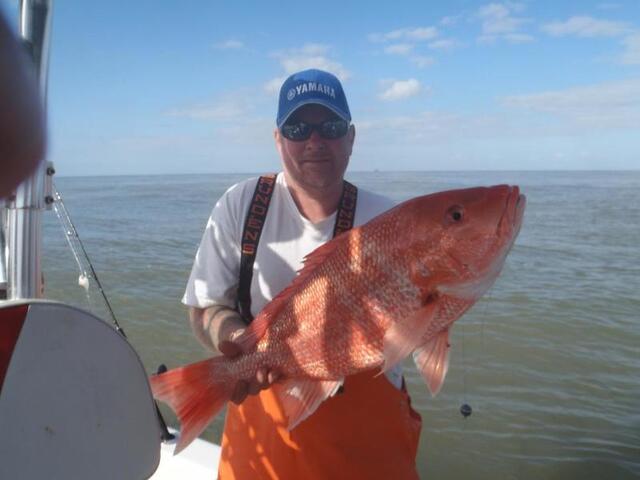 I let them use all their own gear and setups. They were loosing fish and the first one in was not even 16 inches. Once I got the fishing figured out I changed all the rigs. Now we are putting the topping on the box.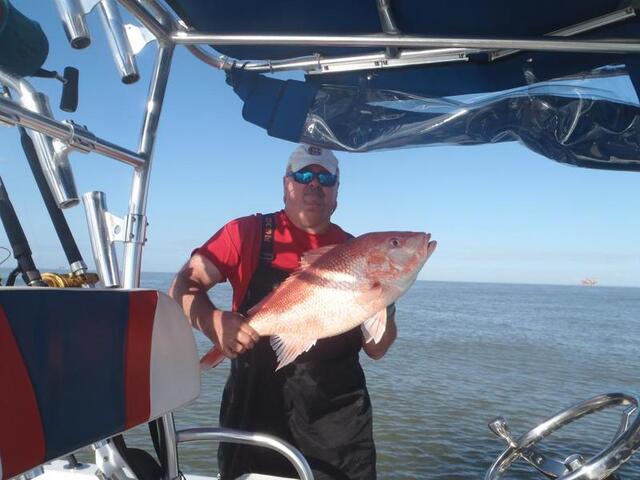 We make short work of the snapper limit and head in. It is already getting late. As I am pulling into the dock the port motor quits again. CHUM is on the dock with the other guys waiting to see what we caught.

Once we tie up there is a sheen around the port motor. When we remove the cover there is oil all over the place. It is the oil that mixes with the fuel. Once on the dock I ask who Chum is. He said I am and goes to shake my hand. I throw my hands up and jump back telling him to not touch me. Just stay away!!!!
We unload the fish and clean them.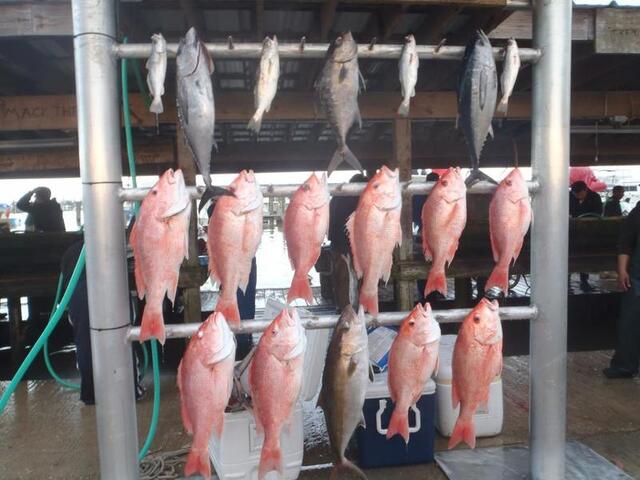 They pull the boat and start working on it. By this time it is already dark. I have supper with them and we decide to check on things in the morning. Another day under my belt.
Life is Good!
Fishing is not a matter of life or death. It's more important than that.
CAPT HOOP -- OUR FREEDOM