Discussion Starter
•
#1
•
Our original plan was to bottom dunk the third day. We were greeted with this.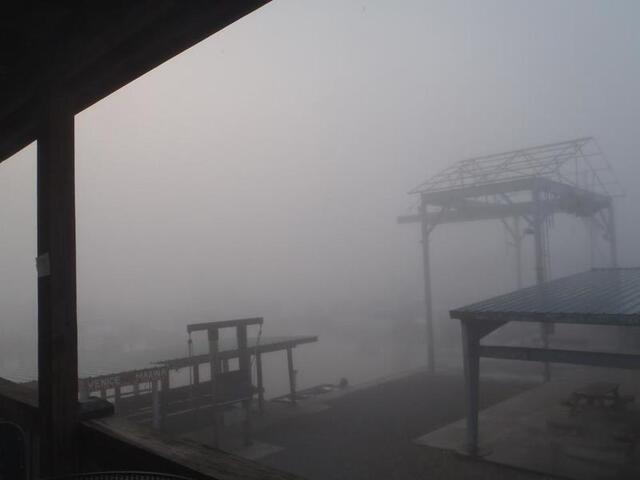 That is a picture of my boat at the dock. Not the Jon boat the one just past it. Did I mention the THICK fog down here?
I took the down time to fine tune my radar. During this time Tony and Matt decided to change plans. Once the fog lifted a bit at the marina we headed down the river. It was now about 8:00. Although the area around had cleared a bit the river was still super thick and I had to run it on radar all the way including south pass. I use both GPS systems and the radar together with the VHF radio to let others know my position and travel direction.
We go directly to the tuna place we went 2 days ago. Once there the reports are not good. Plenty of fish but nobody setting the world on fire. Being already late getting there we decide not to leave fish to find fish. We settle in for the hunt. After a couple of long drifts we hook up. Matt is buttoned up on the first one today.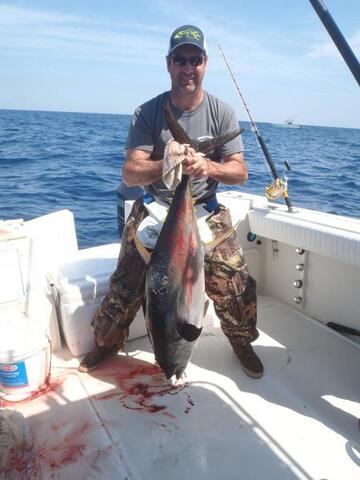 Tony never got a good size tuna this year so he wanted to stick it out in search of the big one. Unfortunately that would be it for us. Justin only got 2 and Kyle was lucky enough to foul hook one in the fin and land it. All were about the same size. There was no current and the fish were not feeding much in this area. On the way in we dropped some Anteater jigs down for an AJ. Tony hooks up but it got into the rig before I could pull it out. I tie on another anteater jig and down we drop again He gets 3 more hook ups and all three come unbuttoned. It is already late and I want to beat sunset but I give them one last win or loose attempt. Matt had been not doing anything but he now hooks up. This is definitely an AJ. It also comes unbuttoned. Looks like the bite is slow and soft everywhere. I can't leave on that note so I tell them to drop again. Matt hooks up to something but it is not an AJ. it is very small. What ever it is we are done for the day.
What a beautiful surprise!!!!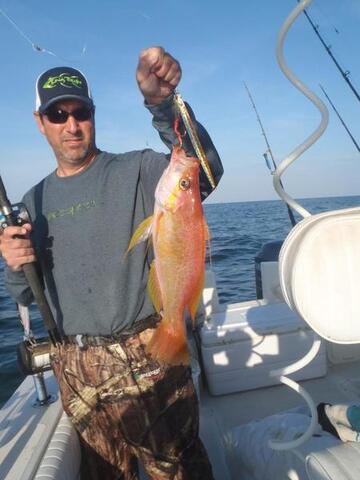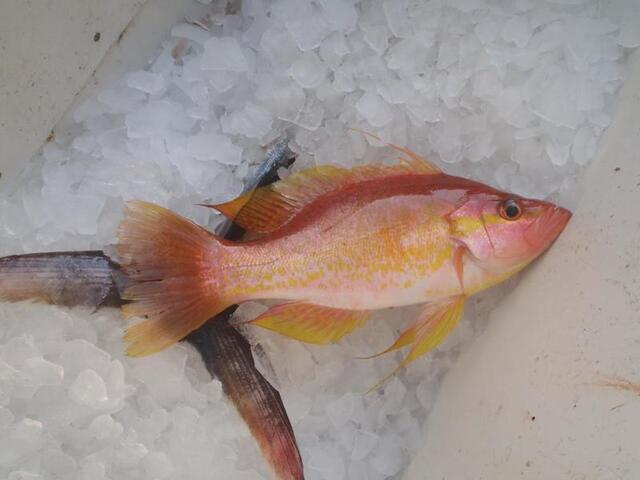 A Long Tail Sea Bass. It is so flakey the meat just about melts in your mouth. Almost without texture. The taste is better than the fish looks.
This put the ending on 3 good days with 2 large coolers full of meat to bring back to Arkansas.
Life is Good!
Fishing is not a matter of life or death. It's more important than that.
CAPT HOOP -- OUR FREEDOM