Discussion Starter
•
#1
•
Tony is a good customer that books with me all the time. He blocked in some time and we had a plan. He was there with Mathieu when I came in. These 2 were fishing with me for a few days. I told him the boat was down. It is a good thing he is knowledgeable about boat electronics. After my last adventure of a dark cloud hovering around I was left with no radar, GPS, or radios. He found all the troubles in less than 2 minutes. I had 2 loose connections and a broken buss bar that holds the fuses. The lower 3 fuses on the panel although they were good, they were not getting any juice. It is impossible to find a loose connection with out any power. We got it fixed the next morning. This gave us a late start but our plan was to go long and find tuna. Seeing he did not have a charter I asked Gary from Red Eye charters if he wanted to come as my deckhand. He jumped on for the ride.
I had been fishing this area and knew the fish were there. The problem was to get them to bite. I almost changed my mind half way out listening to the radio but stuck with the plan. Once there we were marking fish regularly. A few other boats were there and the bite was very slow. We tried for bait but only managed 4. I got out there and gave it a try with no thing at all. We had already lost a good part of the morning and the fish were there so I decided to get dirty.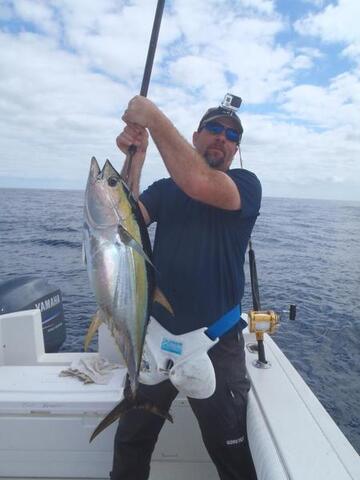 This paid off and Tony puts had our first fish in the box. Not a monster but a good targeted fish. Gary cleaned the boat as I reset for another drift. On our next drift the line screams again and this is a bigger fish. After a good fight Mathieu has a good one. The fight took a lot out of him and we laughed when he struggled to hold it for a picture. You can see the trail of the fishes nose on the deck because that was all the strength left right after the fight. His arms were like rubber.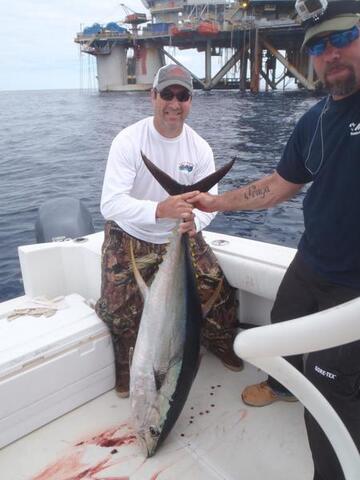 I was starting to have a good rhythm while the other boats either left or watched us do this. After the second fish I broke out the harness. With only 2 customers I don't want them to get hurt and not be able to fish the rest of the day.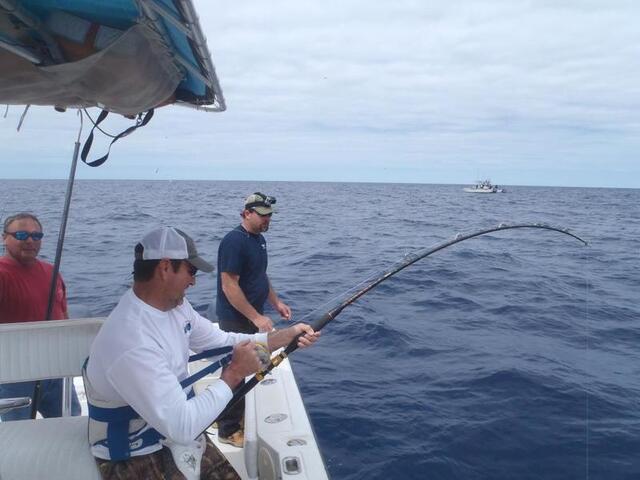 Tony and Matt were taking turns landing some fish. On our next good size one I showed Matt how to hold his fish. He was a bit whipped and said that was OK. He already had a picture. This one was 80 pounds and about as much as this old man wants to pose with.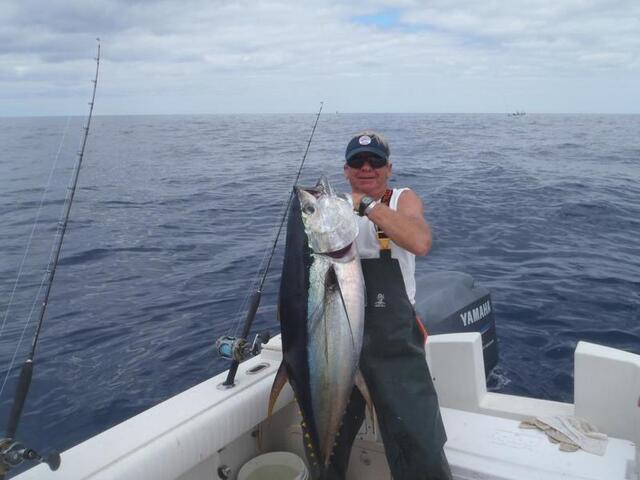 The action continued.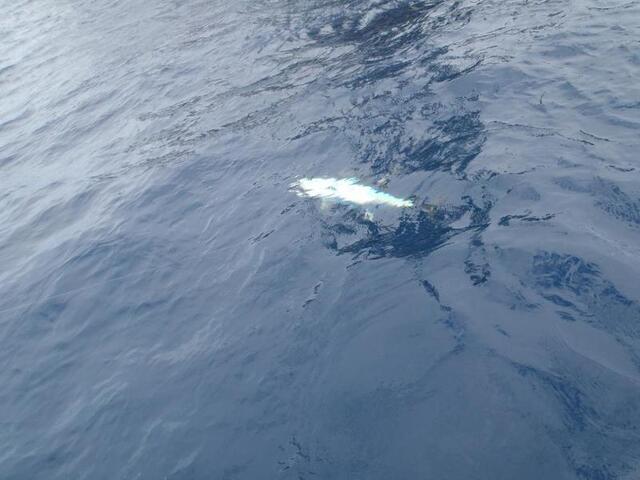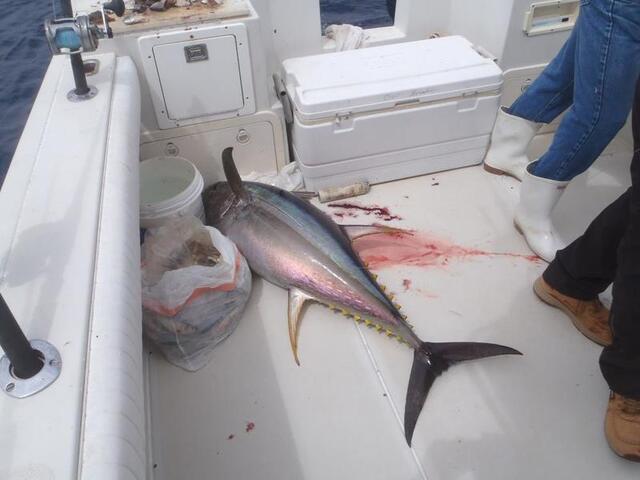 The box was filling at a good pace. One of the other boats asked me exactly what I was using. He is a very good friend of mine and even ran my boat for me during the BP work while I had cancer surgery so I told him in detail. Hope it helped him. I have not run across him since.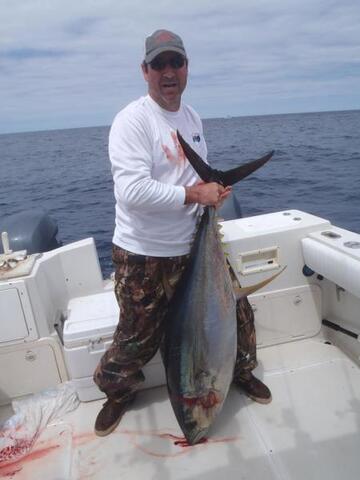 Although early we were topping off well and once this was in the box we had enough meat. We headed in with a good start for our 3 day adventure. It was nice to get in early after the last late night foggy trip. It also felt good to know Chum took his cloud back to N.C. with him.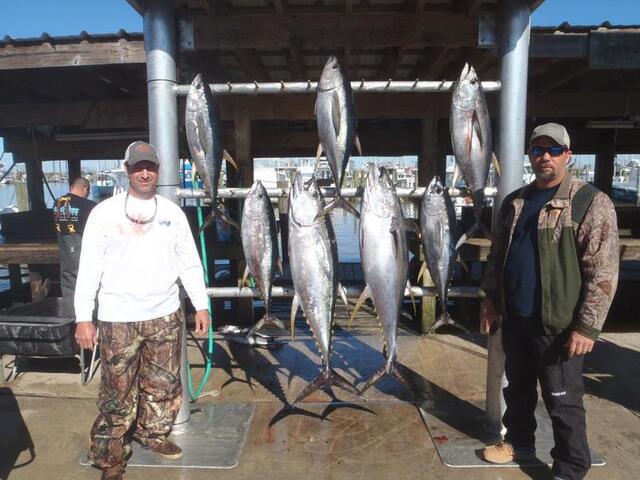 Life is Good!
Fishing is not a matter of life or death. It's more important than that.
CAPT HOOP -- OUR FREEDOM