Discussion Starter
•
#1
•
Got up this morning at 4:00 and after coffee I loaded up the truck for another day guiding. Today was on a 25 fountain. These were my trolling setup basically for the day. 3 Russelures and one pink bomber.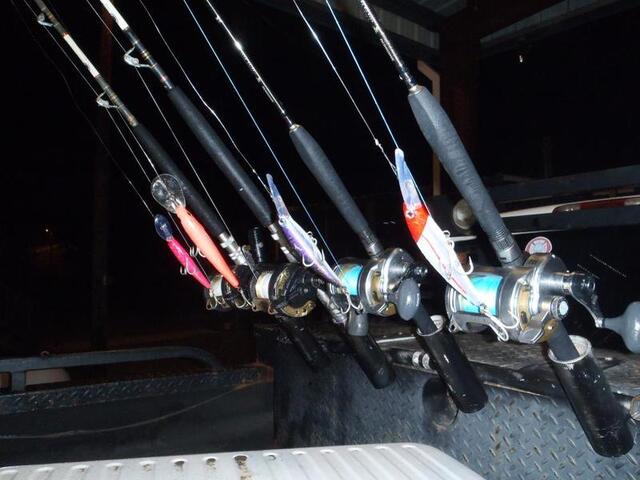 I could have gotten an hour extra sleep but when I am fishing I never hear the alarm. I shut it off prior to the set time. We left in the fog but the Garmin Radar made running the river easy. I did tuck behind Gary on the Red Eye to cross over at the head of passes just for added insurance. As I pulled up to the first rig I saw a boat landing a Jack crevalle and moved out towards the next one. I got a bad feeling about that whole area so off to my third choice. It only took a couple of wraps to have me think of another place. I picked a rig 35 miles away and headed for it. Half way there I would run across another rig in about 700 feet of water that could be good at times. Today was one of those good days. On the first pass we battle a nice wahoo on a pink Russelure only to have it throw the hook after 5 to 8 minutes. Learning curve!!!! I take the time to go over the way things should be done and we set up another troll. This time the purple Russelure gets hit and we are the victor.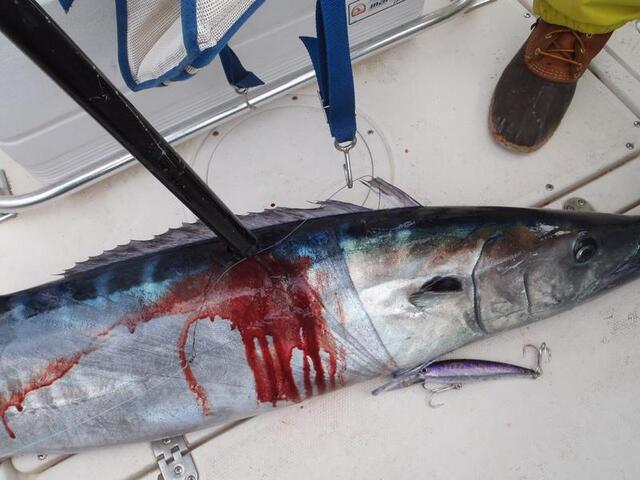 Lincoln broke the ice and our day was started. It is a good thing we only had 40-50 class hooters because they just fit in the fish box the boat had. Our second one came on the red head Russelure. It is early and I am now up to what I had yesterday but not quite as big. Still some respectable wahoo.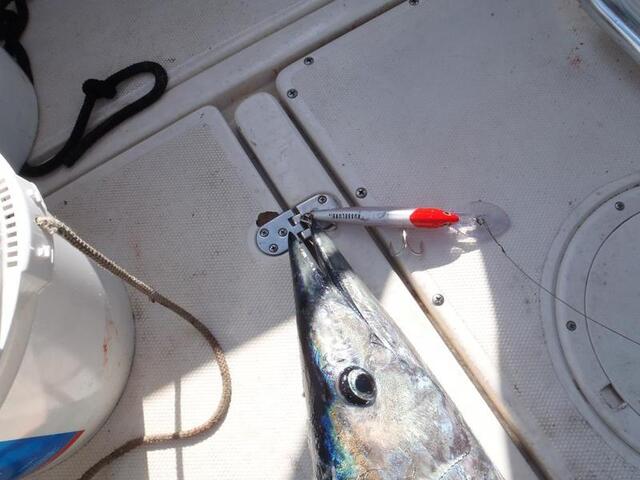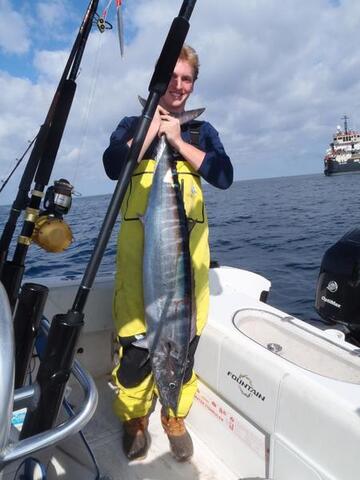 The fish were right at the back and along the port side of the boat. 2 for 3 on hooters and I call one of my buds. Our third one in the boat came in on the pink bomber. These 3 filled the stbd. side fish box. The bite was not on fire but they were there. Our last wahoo came on the pink Russelure. We were now starting to fill the port side fish box.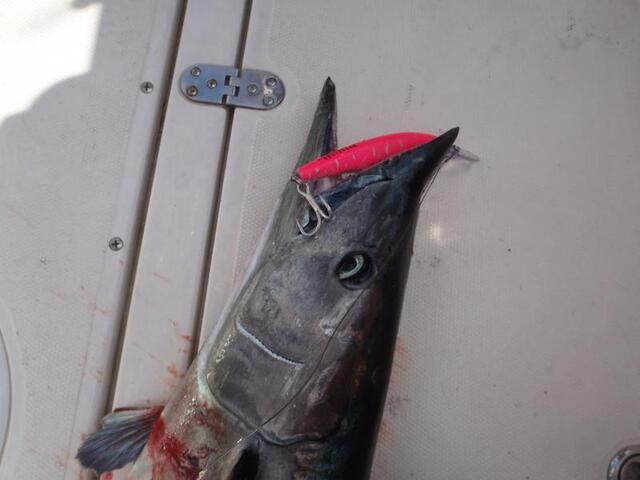 After a few more passes without any signs of action the fish got wise to us and shut off. They were very thick there but decided to take a break. My customers wanted to get in early so they could get back to Nashville for Monday morning so I gave them the option to move to another rig closer in looking for more action or stay where we were. It was about 11:30. They asked if they could get some tuna. Our best option was another 15 miles further out. he said he had a fast boat. Off we went. As we were arriving 2 boats were leaving. One had some blackfin on the troll and the other only had 4 small yellows after chunking all day.
We were looking for a few tuna yellow or black and were hoping to get some rather quickly. The tuna can not resist the Russelures I have been testing so we set up a 3 lure troll and almost instantly we hooked up to a blackfin.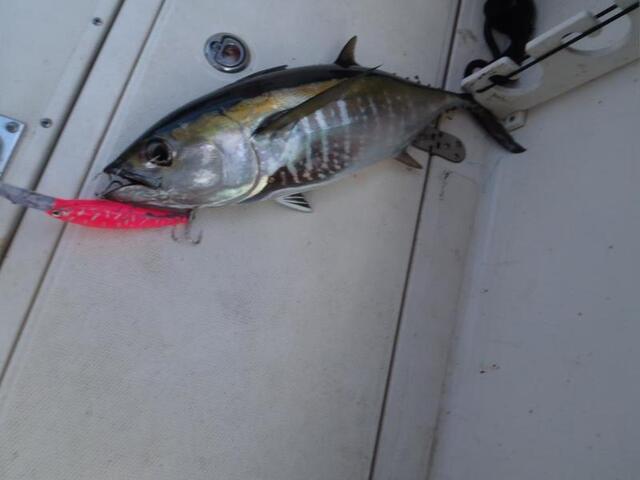 From there on it was hits almost as soon as we put the lines in. I think we had 3 doubles. It only took about a half hour to put 10 blackfin in the boat. We added them in with our last wahoo in the port box and when it was full we had a hold in the front with ice to put the excess in.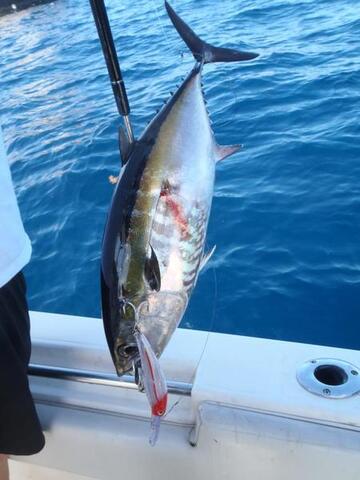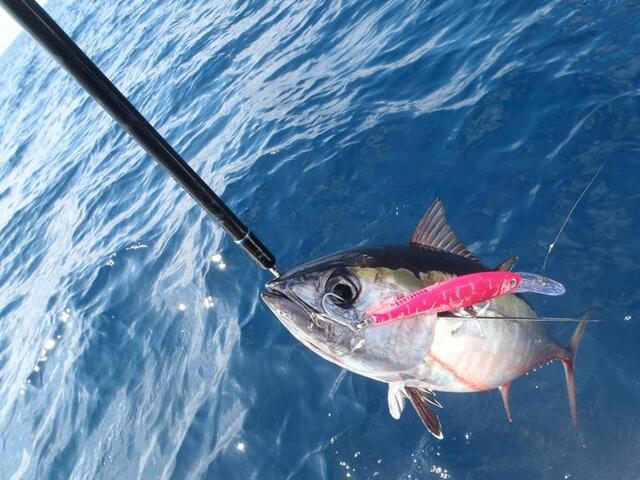 That is how fast they came in and we headed in to end early and they could get on the road. The ride in, over 50 miles to tiger pass was quick at 45 plus miles per hour. While I cleaned the fish they cleaned the boat and got it on the trailer for the ride north. They did take the time for a quick hanging picture.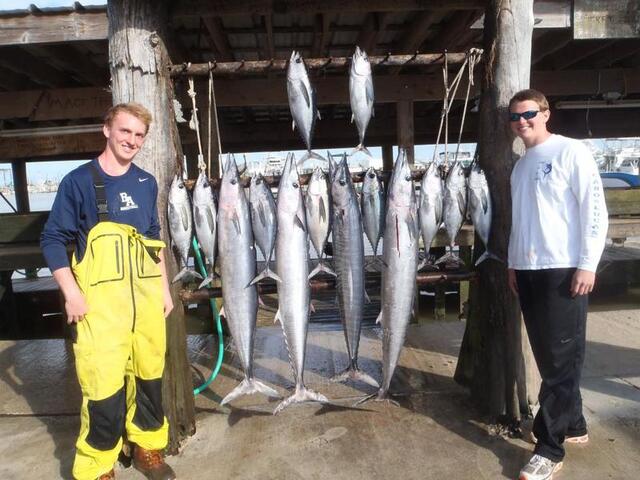 NOTE*******
THE RUSSELURES
A lot of people have been asking?????
I talked to Mike tonight and he has the lures in stock now but they are not on the site system yet. You can call and order them over the phone at this time. 832-688-9296
Life is Good!
Fishing is not a matter of life or death. It's more important than that.
CAPT HOOP -- OUR FREEDOM