Discussion Starter
•
#1
•
NMFS has been messing with nature for many years. I honestly believe there is no other fishery they can mess up any worse then the red snapper. The fish is a predator that has been allowed to over run it's habitat and destroy other fish that are trying to exist in the same environment. In my over 70 years I have noticed them take away recreational fishing a bit at a time. They have reached the top of the hill in the over regulating business with a 9 day 2 fish season. The money and politics has got to get out of the fishing industry. Let the states regulate their own areas and get a reasonable regulatory system in place. Our political machine is broken at all levels.
Rant done Report follows.
I had a call after 10:00 on my day off. A group of guys had towed their boat down to Venice for a week of fishing only to have issues with 2 of the 3 motors. They were stuck here and were looking to salvage a bad trip. I had to load the rods on the boat and trailer it to the marina. See ya after 11:00. We made a short, late day, snapper run. The trip out took longer than the catching.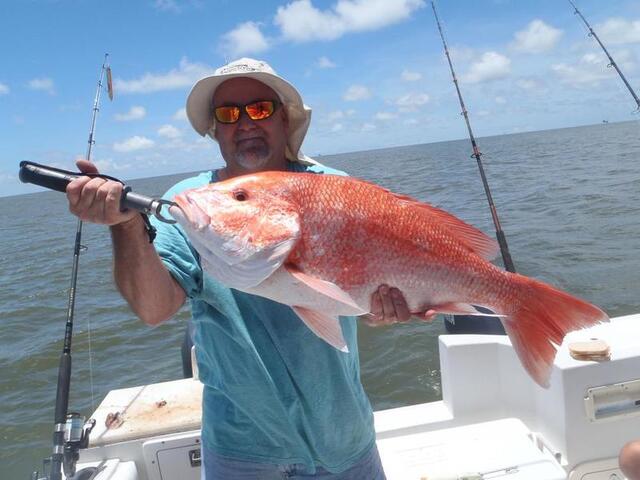 We got into 12-16 pounders. They kept me busy with doubles.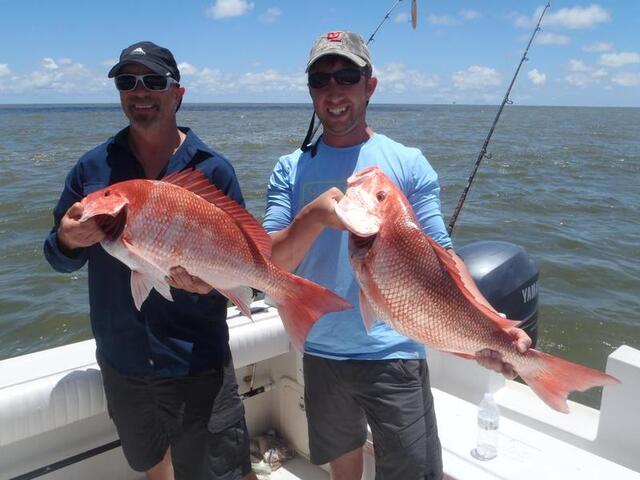 I only had 3 rods in use which worked out very good. The guy with the black hat above caught a fish and proceeded to help me with the chumming the rest of the trip. The sound effects were outstanding. At least he took time out to fight a good fish.
This kid fought 2 big red snappers and we fought to keep him in the boat. All joking aside he did a great job on the fish and has memories for a lifetime.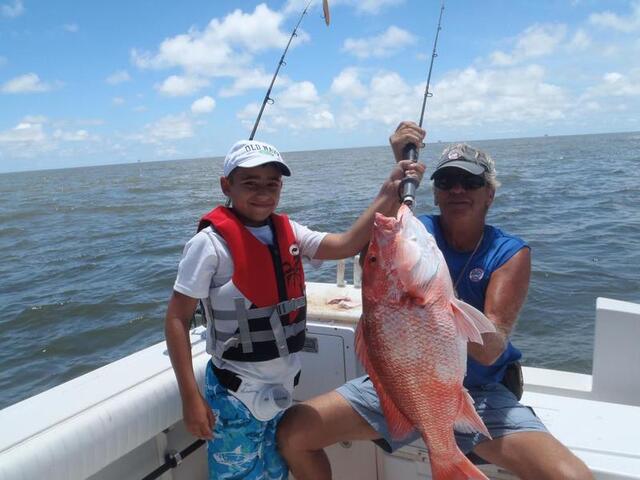 I had 6 guys and a child with me which is the 8 person limit for my boat but it made for a problem with my charter. I explained to them that My license allows for me to do a six person charter only and we would only be able to take a six person limit of red snapper. They understood and we shut it down at 12 fish in the box. I am allowed a deck hand but he is not allowed to be in the count of fish. While at the rig we hooked into a black tip shark about 4 feet long. I gave it a 15/0 circle hook to show to his new lip piercing to his buddies. It already had a 7/0 hook on the other side.
With our limit in the box I went to another rig looking for some mangrove snapper. The water was muddy and that is how I like it when fishing for these elusive critters. When it is clear it is nice to watch them but they are also watching us. We made a half hour stop and managed 9 mangroves. Our topper at this stop was a good fight from a Jack Crevalle.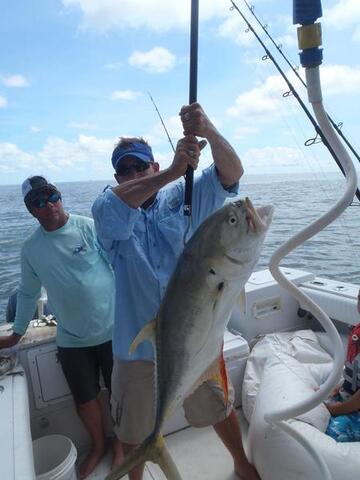 In a little over a half hour we found a pair of mangrove snapper and headed in. The beer was getting low. Actually it was already late in the day. We had a nice bit of fish for a quick afternoon trip. 12 red snapper and 2 nice mangroves.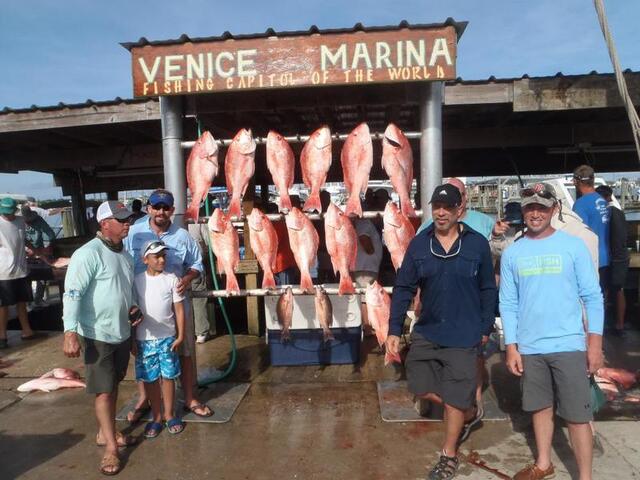 The next day I had a couple that never went offshore and wanted to try for tuna. They wanted tuna but were not set on tuna only. They just wanted to catch some good fish. They slept in and got to the marina a bit late. This cloud would hang over us all day. We struggled making bait which put us further behind. Almost to our targeted rig 35 miles out I find a weed patch loaded with tuna crack. We get to the "boat show" and the bite is already ending. We give it an hour but luck is not on our side today. Plan "B" goes to work now.
I found some good weeds that held chick dolphin. They were so thick and hungry they even bit bare hooks. I put an end to the bloody slaughter at 2 dozen fish.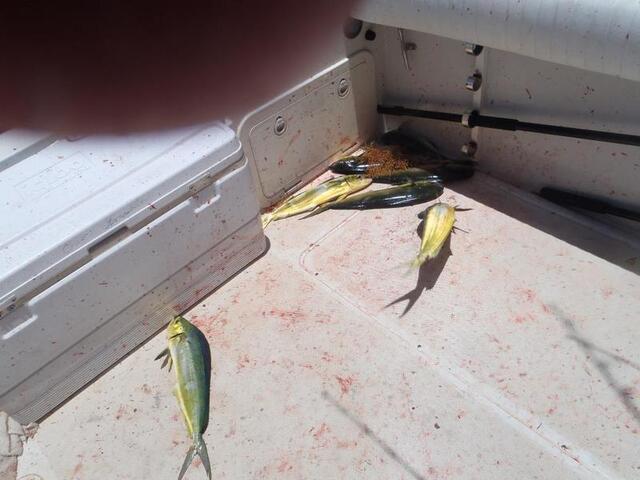 We headed in and found the Cougar struggling with the red snapper. The wind and current was against each other and the bite was not on fire. Once I got there things changed for him. I saw him put a cobia and a blackfin tuna in the boat as well as his final 13 fish to limit out. Our 4 fish limit was fun also.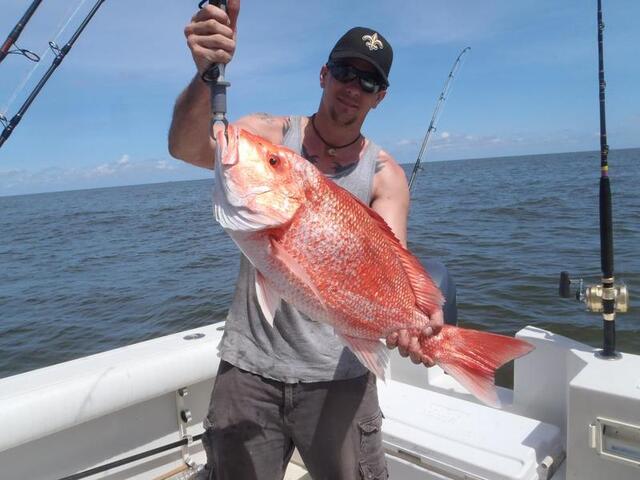 I was able to salvage the day with a good looking mess of fish.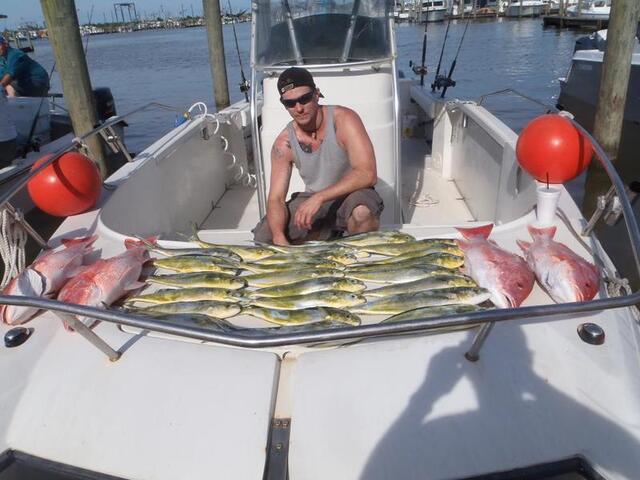 This is a nice way to get your feet wet on the offshore scene.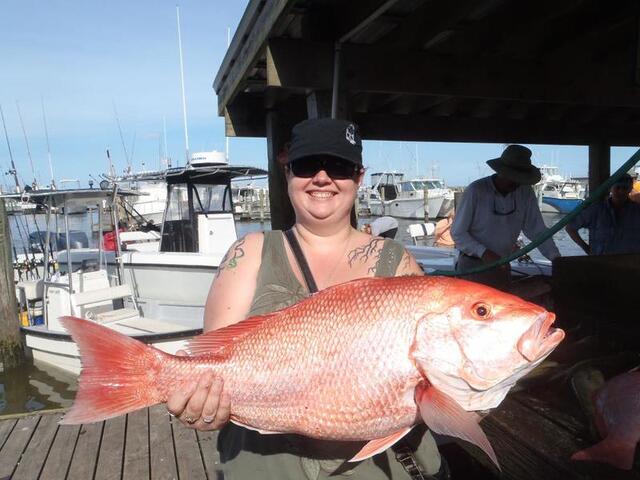 Life is Good!
Fishing is not a matter of life or death. It's more important than that.
CAPT HOOP -- OUR FREEDOM