Discussion Starter
•
#1
•
I've known Rich since 98 when we were both work down here TDY. Had a great time and years passed he's now down TDY for a couple months and brought his Yak which we have splashed last weekend and yesterday. So we make a plan to head off Destin due to Navarre Fun Fest and meet at the Waffle House 0430 to get our plan right.
I'm almost out of Navarre and remember the bait in the freezer so I hit Wal-Mart instead and get there a bit late -we get the plan and head to Destin. I forgot how nice the sand used to be before the Dumb Sum-Bitches in Milton poured millions of cubic yards of crud on Navarre's beach.
The launch was Great: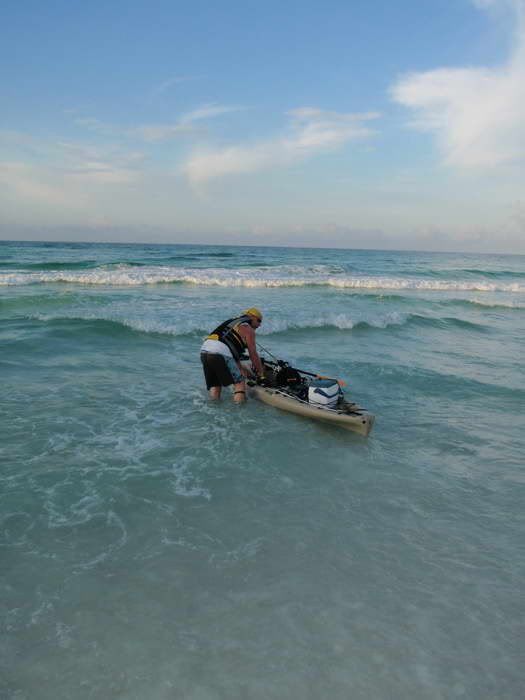 ..just a little wash and right at sun-up! No shells or other crap barfed over this beach!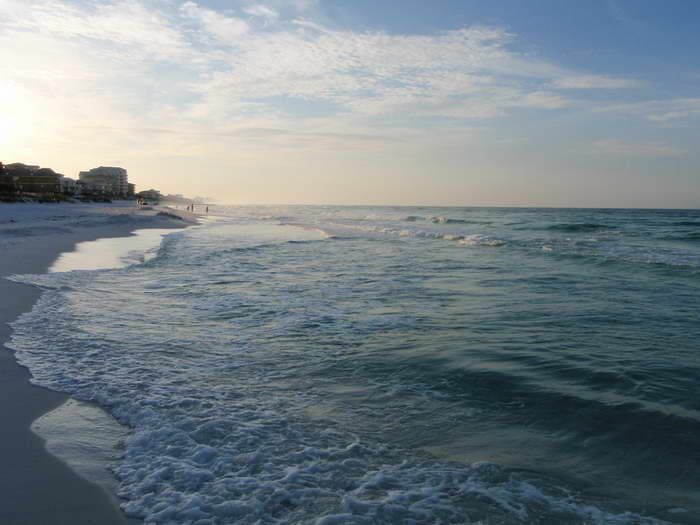 Got out and it didn't take long to start putting kings into the yak. No mid size ones all were 5-10#'s (eating size) but more on that later.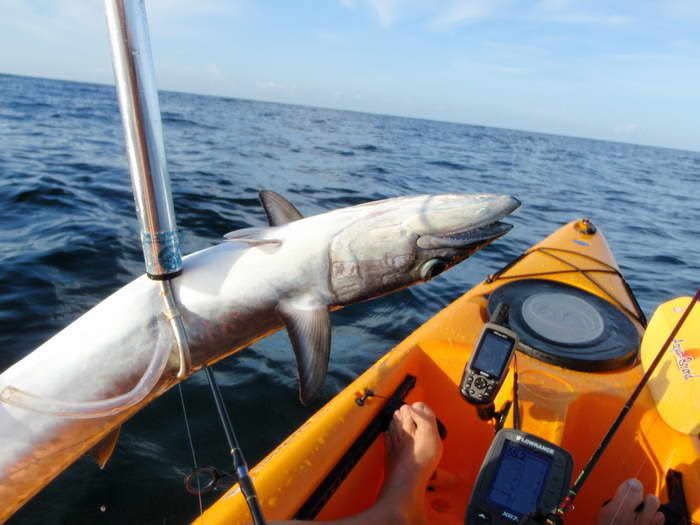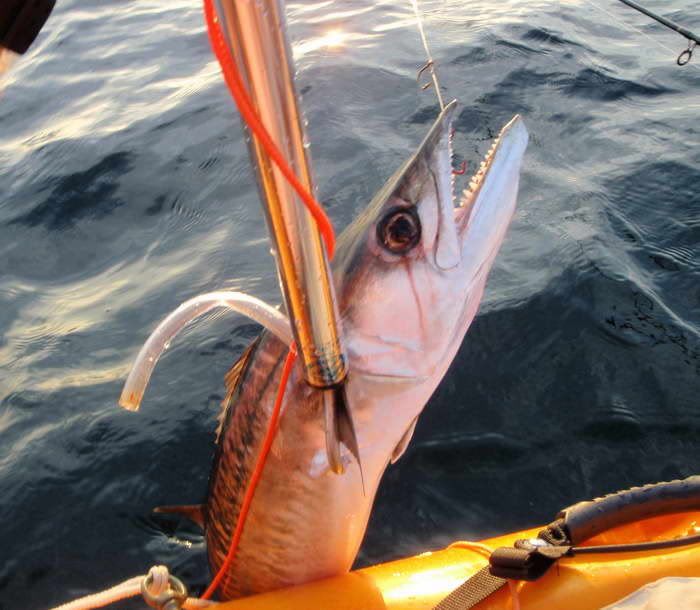 Three kings for me two for Rich. We kept a couple to smoke - but again more later....
Meanwhile Rich hits some big time kings down current of the tug and blows through the cigs and comes with a nice King and a Mahi! Take that Jack!!
oke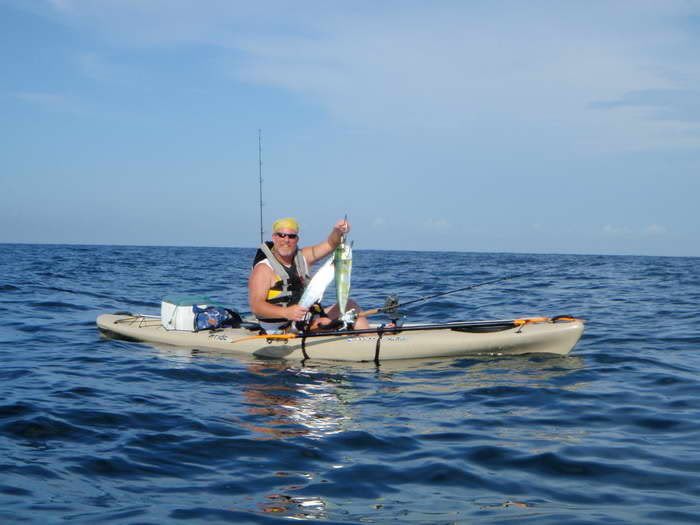 Then after the Tug we padded to some near shore pyrimids that were holding other fish. Now I thought about putting this Jack-Ass in the thread and figured I ought to. Here I am Anchored up on the Tug in a yak and up comes a 24' Parker...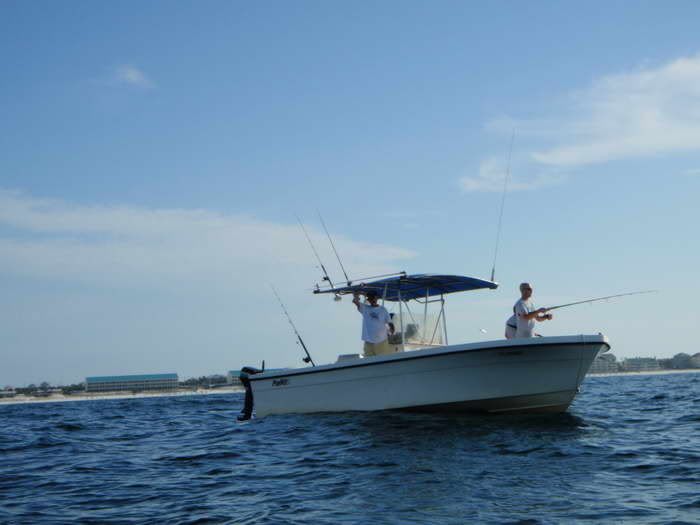 They circled me and tossed lines my way and didn't even wave me a finger. I calld to them and asked if they needed help? (14' yak) and they just looked perplexed. Well then they say they'll be out of there in a min - I say no problem I'm used to people running up on me :banghead
So I head to the other spot and get Baby cobe maybe 25":
..and another boat comes up, a 15' Boston Whaler with a old dude and prune with boobs. (You'll understand in a min)
So again I'm anchored up and waiting on Rich to make it and this yahoo comes up and litterally circles me at about 20'. I'm sitting in the circle of wake bobbing around and wondering if they are from mars and give them teh two hand shoulder shrug? Thinking WTFO? They don't make eye contact - say anything just continue to ease up and circle. Now those that know where I was know there are 10-12 spots all within 2 miles or so. I Say to them I'll give them a spot if they go away and quit trying to swamp my yak. The Bitch(Prune) with Boobs starts giving the guy and me both hell! He goes 100' away and they bitch at each other and then come back and catch a 10" (at most trigger) in the cooler it goes... over comes a 15" Gag in the cooler... etc etc... I didn't remember my VHF cause if I had I would had called the leisure police on their asses.
SO on that spot and the previos Pryimid I caught seven Grouper. None bigger then 17" but fun on light gear and a yak. Here's a couple of the cute lil' guys.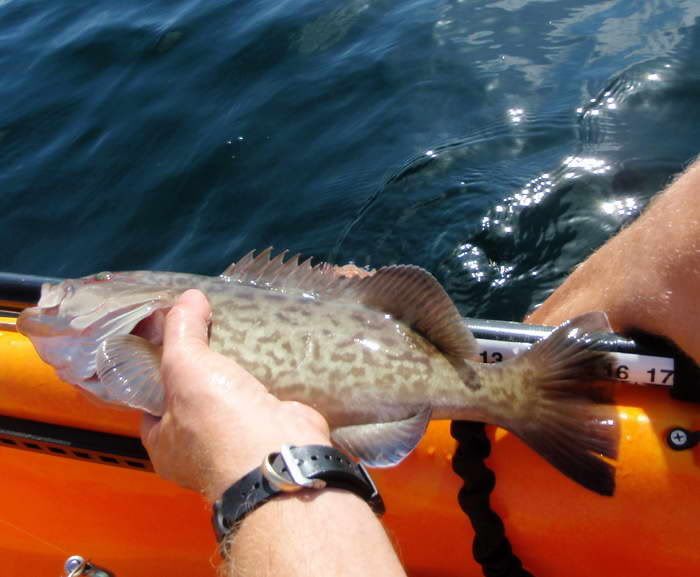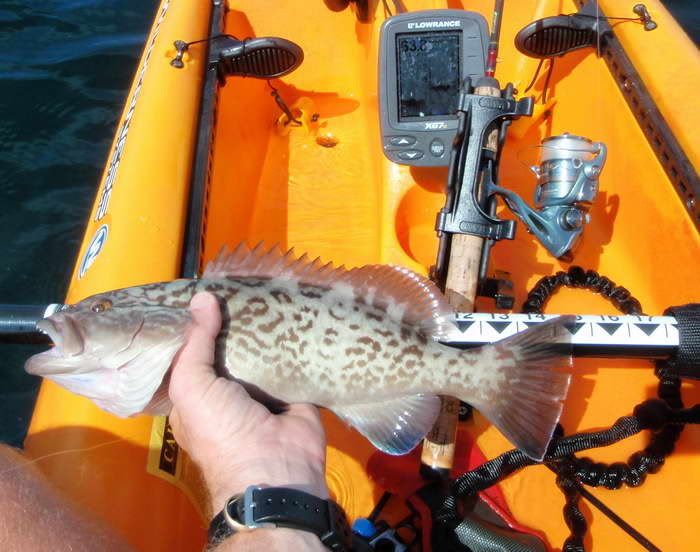 Some folks why keep one of these?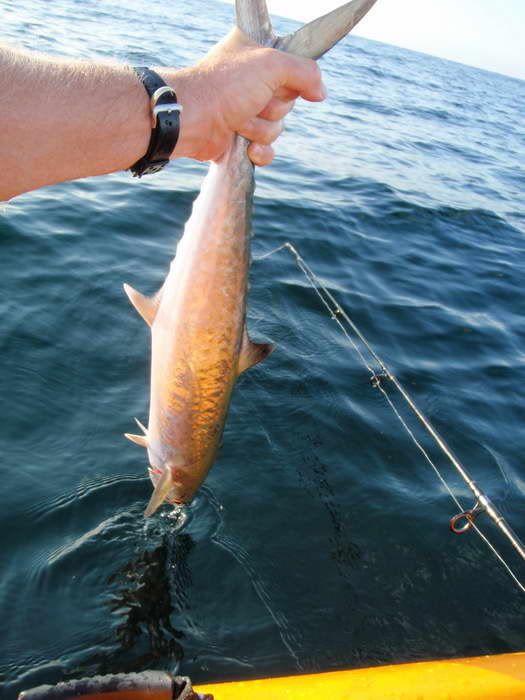 For this reason only: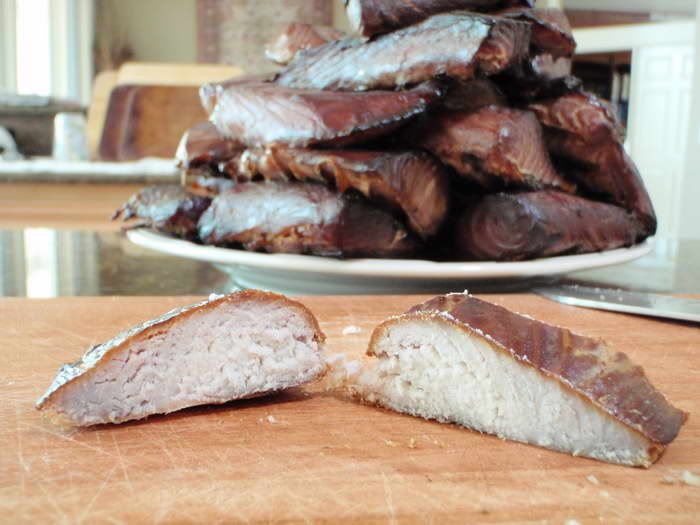 We had a great day and constant action. Cleaned and preped everything to head out again soon.
For the day we caught and landed 7 or 8 kings kept 2.
1 Mahi
8 or so short grouper
couple sneakerheads
Not one snapper!
10 or Rudy Red lips.
:mmmbeer
Stressless